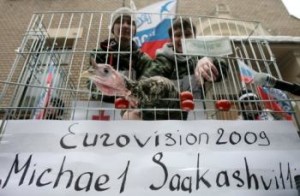 This year, Georgia decided to send a controversial song We Don't Wanna Put In. Although Georgian representatives, Stephane and 3G, claim that the song is not about the Russian Prime Minister, Vladimir Putin, Russians have already begun protesting against the song which will compete in Moscow on 12th May.
Today, several dozen activists staged a noisy protest in Moscow to condemn the 2009 Georgian Eurovision entry We Don't Wanna Put In. Young Russia, a pro-Kremlin youth group, organised the rally near the closed Georgian Embassy in Moscow against the Georgian entry, We Don't Wanna Put In, which is described as an insult to Russians as the contest is taking part in Moscow, the capital city of Russia, this year.
"This song does not just insult Putin, it insults the whole Russian people. I think that you shouldn't take a non-political contest and turn it into a political show to insult your opponents." Maxim Mishchenko, leader of Young Russia and a member of the Russian parliament, said on the sidelines of the protest. 
The disco-style song by the Georgian group Stephane and 3G, sung in English, has the chorus We don't wanna put in/The negative move/It's killin' the groove, which many believe plays on Putin's surname. Some activists described the song – which won the right to represent Georgia after a panel and phone-in vote in the ex-Soviet republic last month – as a US plot against Russia: "We think that Georgia put this song in Eurovision because America paid for it, because America pays for everything in Georgia," said Young Russia spokesman Yevgeny Nasonov, who attended the protest.
The group also brought a turkey to the protest that was said to represent Georgian President Mikheil Saakhashvili, and two activists dressed in NATO-style uniforms showered it with fake dollars.
In a reference to Saakashvili, who is frequently pilloried in the Russian media, the activists chanted: "Misha stop sniffing cocaine, better to use your brain."
As it will be remembered Russia and Georgia was in a kind of war in South Ossetia, a breakaway region of Georgia whose separatist administration is backed by Moscow.
AFP