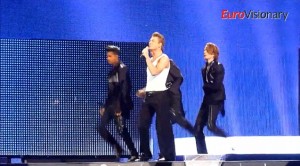 One of the countries participating in Baku next year, Russia, is set for their national selections on the way to the 2012 contest. National broadcaster, RTR, announced that the national final will take place on February 26th. Twenty-five acts will try to follow Alexey Vorobyov's mission in Azerbaijan, only one will get the ticket for Baku.
The preparations for the next Eurovision Song Contest have already started in Russia, a neighbour country of Azerbaijan. The preliminary round has already been kicked off by RTR. A total of 25 acts will be chosen to participate in the grand final on 26th of February. The show will also be broadcast by RTR's Rossiya 1 channel.
The lucky name who will get the honour of representing their country in Baku will be chosen by a 50/50 split decision of jury and televoting.
Last year, Alexey Vorobyov aka Alex Sparrow, represented Russia at the Eurovision Song Contest in Düsseldorf, reaching 16th placing for his country. Afterwards, he faced heavy criticism. Russia is hoping to achieve a valuable success next year with the advantage of participating in neighbour country