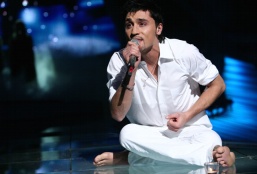 The Russian broadcaster RTR announced more details about the big national final on the way to Baku. 25 participants will be participating for the golden medal where previous winner Dima Bilan will make a return with former represenative, t.A.T.u's Yulia Volkova.
The final of Russian selection will be held on March, 7th and will be broadcasted by the national broadcaster RTR via web and satellite. Twenty-five names in total will be participating in order to be the one who will be representing Russia in Baku this year. The names has been chosen by an expert jury. The names are (with the order of appearence in the final show):
1. Lena Maksimova
2. Ksenona
3. Irson Kudikova
4. The UPS (Band)
5. SARDOR
6. 4POST (Band)
7. Efrosiya
8. UNITE IT (Band)
9. Katya Savelyeva
10. Olga Makovetskaya
11. Rene
12. Farinelli Balls (Duet)
13. Polina Smolova
14. CHINKONG feat. KARINA
15. Mari Karne
16. Mark Tishman
17. Ed Sulzhevskij
18. Elena Ekimova
19. Julia Volkova & Dima Bilan (Duet)
20. Riff Action Family
21. AIDA & TIMATI (Duet)
22. Pavla
23. Syostry Syo (Duet)
24. Buranovskiye Babushki (Band)
25. Jet Kids (Band)
The names Dima Bilan and Yulia Volkova flashes to the eyes in the list as these names both represented Russia at the Eurovision Song Contest in the past. Yulia Valkova with her partner Lena Katina (as t.A.T.u) had a huge popularity all over the world before they split up. They participated at the 2003 Eurovision Song Contest where they were one of the big favours, but they finished in 3rd placing behind Sertab Erener (Turkey) and group Sanomi (Belgium).
Dima Bilan is one of the well-known Russian hero amongst Eurovision fans as he participated at the contest twice. In 2006, Dima ended in 2rd placing with the song Never Let You Go behind Finnish Lordi. Later, in 2008 he broke the devils leg and brought the trophy to homeland with the song Believe.
Romours point that the duo will sing a song named Back to the Future which is written by Swedish songwriters and composers.
On the other hands, some names such as Buranovskiye Babushki will also be participating in the Russian final. The grandmas in the group, have taken the huge continental symphaty with the participation in the 2010 national final. At that year, they lost their tickets to Peter Nalitch & Friends. Later in 2011, they have submitted another entry, but Alexey Vorobyov aka Alex Sparrow beat them.
The song titles is expected to be announced on a later date. Below you can watch t.A.T.u and Dima Bilan's participating songs at the Eurovision Song Contest: