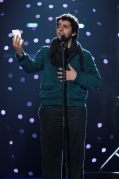 Russia rehearsed for the second time this morning, hoping to make a good impression ready for next Tuesday's semi-final.
Peter Nalitch and his Friends took to the stage after we'd seen the first very efficient change over after Moldova.  There's a 45 second window for the stage hands to clear one set up ready for the next, and this first one was bang on time.
As a native English speaker, I can be very critical of an English accent.  I'd much rather have someone sing in their own language well, than another language (for example English) badly.  This was the case with Peter Nalitch, and I can't get past some of his pronunciation, which is a little lacking sometimes.  The "What are you doing, man?" line in fake-American by one of his Friends is also a little forced.
Nevertheless, there's no doubting that he can hold a tune and he means every word of the song.  The 'snow' that falls sets the dark tone for this song, although the wind machine used near the end makes the 'snow' look like the bits of paper that it is.
Sadly, I do suspect that we will be having a Eurovision Final on 29 May without Russia.