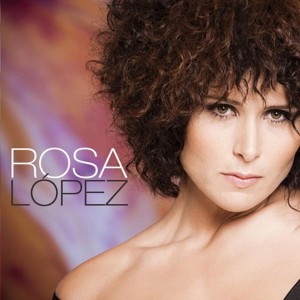 Rosa López, who represented Spain at the 2002 Eurovision Song Contest, releases her seventh album, which is self titled. It offers a variety of styles and new sounds, from an updated version of Yo No Soy Esa which is the first single, up-tempo rhythms, Hindu flavors and a ballad composed by herself.
More than a decade after winning the first edition of the popular talent show Operación Triunfo and representing Spain with the song Europe's Living A Celebration and the subsequent three year hiatus from her previous work, Rosa López releases her seventh album that will go on sale June the 26th in physical format and it will be available in digital stores a week prior to the official release.
It would be difficult for someone who has not followed her transformation to recognize the singer if someone show you two pictures, one of today and another one from the first edition of that talent show that conquered millions of viewers in Spain. Her change has been radical, but not just physically because she has advanced a lot musically and personally and this is evident on stage. After some away from the limelight, she remains the most successful female solo artist of the last decade with over 1 million albums sold in Spain, seven platinum albums and four gold ones.
After three years of musical silence, Rosa returns to the fray with an entirely different album to the last one. Great ballads and songs with clear echoes of arab and latino are just some of the ingredients on this album entitled Rosa López so it will be the second album that bears her name after the eponymous album Rosa with which she made her debut following her participation in Operación Triunfo. Her return to the recording studio is certainly marked by the revolution of her appearance. The vocalist who represented Spain at the 2002 Eurovision Song Contest now wears an unexpected afro hairdo and with this new look, the young artist promotes her seventh album.
The first single was officially launched a few days ago and this is a version of the popular song Yo No Soy Esa by Mari Trini which has been adapted to a new style aimed at the dancefloor. Although the first single is an old song, Rosa's new album will not be an album of covers. The singer has spent more than a year working on a wide and varied selection of unreleased songs that will make this her most personal album to date. Rosa has also included a song composed and written by herself called Amor Amargo but this is not her first experience as a composer as she also did it for her second album with the ballad Ahora Sabes Cómo Soy and the disco song called Destino.
The composer and the producer of the album also have Eurovision Song Contest connections. Jesús Cañadilla, who has written most of the lyrics, was the author of Daniel Diges' song Algo Pequeñito in 2010 as well as Eos which was one of the candidate songs in last year's national final performed by Melissa. The producer of Rosa's album, Alejandro de Pinedo, meanwhile, has composed a lot of Eurovision candidate songs like Busco Una Chica performed by D'Nash, Busco Un Hombre by Nazaret, Un Olé by Arkaitz or Amor Mágico by Lorena among others.
Rosa won the first edition of the popular Spanish talent show Operación Triunfo and her first album became a huge success, selling more than 500,000 copies but her throat problems led her away from the stage after a major national tour. She came back in 2003 with a completely renewed look and a desireto give the best of herself. In 2006 she won the Spanish version of Strictly Come Dancing and that proved that she still had the support of the audience.
Despite her irregular and undirected music career it is impossible to find someone in Spain who does not love her. Rosa López has always been the crowd favorite, perhaps because of, amongst other reasons, the weakness that this woman has always shown despite being physically big, kind and sincere, with a lovely voice and an extreme shyness when she is off the stage. With this album she attempts to please all kinds of fans: those who love her singing versions of Spanish classic songs and those who want a more modern sound. The unanimous approval of her fans and the media coverage so far has endorsed the new sound of Rosa's voice. There is no doubt that she is a professional and she will always be respected for her humility and her hard work. Will she succeed this time?
On this album we find various styles, and Rosa's voice sounds as good as ever. In the track list there are a couple of collaborations with DJ Kun and Monchi DJ. She also dedicates a song in solidarity with the NGO Manos Unidas and she will donate all the benefits to support their humanitarian work.
This is the album track list:
1. Soy Una Mujer
2. Llanto De Nostalgia
3. Paramjit
4. A La Luz De La Luna
5. Muy Lento
6. Todo Te Lo Debo A Ti
7. Manos Unidas
8. Tú Y Yo
9. Yo No Soy Esa
10. Amor Amargo
11. Momentos
At the digital store of Universal Music Spain you can hear a snippet of each of the songs and below you can see Rosa performing the first single off her new album Yo No Soy Esa.