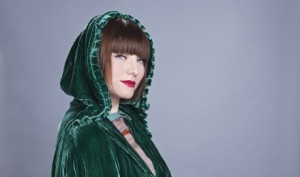 Some of you who followed the Icelandic national selection this year may well remember a striking looking woman by the name of Rósa Birgitta Ísfeld singing the cooky Stund Með Þér in the final. She may have failed to reach the top three, but now has an overseas album release as a nice consolation prize.
Rósa Birigtta Ísfeld is an enterprising woman. She gained many new fans this year with her collaboration with the extremely succesfull songwriters Sveinn Rúnar Sigurðsson and Þórunn Erna Clausen, the Söngvakeppni Sjónvarpsins entry Stund Með Þér, which in terms of style and individuality stood out a mile. But what not many may know is that prior to her participation in the national selection, Ísfeld also enjoyed considerable success as half of the duo Feldberg. Work with the group had taken her as far afield as Japan while promoting their music.
A more recent collaboration that Ísfeld has played a part in is now also beginning to bear fruit. The dance duo Sometime is a partnership between this multi talented artist and a long time friend of hers, Daníel Þorsteinsson. They've been going since 2007 and have already released amongst other things the albums Supercalifragilisticexpialidocious and the more recent Acid Make-Out: Music From The Motion Picture in 2012, as well as a number of EP's and singles in their native Iceland. It is their latest recording that has attracted interest abroad.
The duo has managed to secure a deal with two publishing companies who will handle the album release in both the US and Turkey. The Turkish release came about almost by coincidence, as a long time Turkish friend of Þorsteinsson had wanted to promote the duo's music in the major cities; Izmir, Istanbul and Ankara. Their latest album is now scheduled to be released in these three cities, with a coinciding tour of Turkey also on the cards.
Þorsteinsson, who currently is studying design in Barcelona, will also be putting his knowhow to good use, as he is reportedly working on a unique design format for the overseas release of their 2012 album. As Ísfeld explained to the Icelandic news site Vísir: "He (Þorsteinsson) wanted the album cover to exist as something else, as we think the CD format is on its way out. The cover has been designed as a kind of 3D envelope, a sculpture in the form of a prism, which looks pretty special." Þorsteinsson is also responsible for all of the artwork on the duo's latest album. Further domestic promotion of the album is planned when Sometime will give their first concert following the album release at the forthcoming Iceland Airwaves event that is due to take place at the end of October as well as making an appearance at the newly opened nightclub Dolly later this autumn.
We wish the band all the best with their release, both at home and abroad and hope to see Rósa Birgitta Ísfeld back for another try at Söngvakeppni Sjónvarpsins next year.