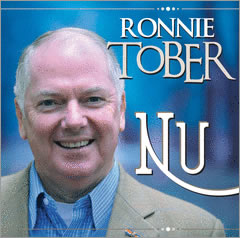 A CD featuring 11 of Ronnie Tober's biggest hits, three of them being medley's, is now available. Ronnie represented the Netherlands at the 1968 Eurovision Song Contest held in London and has been a household name ever since.
Ronnie Tober and his family moved to the USA in 1948, three years old. He appeared in various TV shows, had a part in two musicals and recorded his first album in 1959; "Who Taught You How To Love". At a TV performance in the Netherlands in 1963 he got so good reactions that he simply decided to move back to the country. He signed with a big record company and released his first Dutch album the year after.
In 1965 he participated in the Dutch national final and came second with the song Geweldig, but we experienced the winning feeling when he won the Polish song festival Sopot International Song Festival in 1966. Two years later he became a very clear winner of the Dutch selection with the song Morgen. Despite finishing 16th at the Eurovision Song Contest Ronnie has since that experienced big success and has become one of those names everyone in the Netherlands knows.
Counting from his first Dutch record in 1964 Ronnie can now celebrate 45 years anniversary and counting from his first album in 1959 it is amazingly 50 years.
The CD NU includes 11 of his biggest hits over the many years. It features songs in both English and Dutch and some very well known classics like Can't Take My Eyes Off Of You, You'll Never Walk Alone and We'll Meet Again. The album also includes three medleys; A Dean Martin medley, a Frank Sinatra medley and of course a Ronnie Tober medley.
Ronnie Tober's "Nu" can be bought here and a complete track list is available below:
Ik Ben Wie Ik Ben
With A Song In My Heart
Can't Take My Eyes Off Of You
Smile
Brazil / What Now My Love
Ronnie Tober's Hitmedley: Iedere Avond / Geweldig / Rozen Voor Sandra / Naar De Kermis / Rosemarie
You'll Never Walk Alone
Frank Sinatra's Hitmedley: My Way / Strangers In The Night / New York New York
Alleen
Dean Martin Hitmedley: Return To Me / Everybody Loves Somebody Sometime / That's Amore
We'll Meet Again
Buy this album via bol.com. Via the link to the Ronnie Tober Foundation you can read more about his work for disabled people. 
In the video below you can watch his 1968 Eurovision Song Contest performance. 
Links