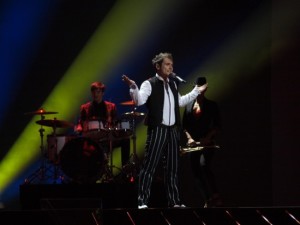 TVR, the Romanian Broadcaster officially confirmed Romania's participation for this year's Eurivision Song Contest, to be held in Baku in May, by announcing that details for the national selection will be launched on the 18th of January.
Dan Manoliu, the new Head of the Romanian Delegation officially declared yesterday that all the rumours regarding Romania's withdrawal from the Eurovision Song Contest 2012 were fake and that TVR has confirmed its participation to EBU ( European Broadcasting Union ) in November last year. 
He prepared a budget of 200.000 euros for this year's Song Contest from which he intends to pay all the costs including organizing the National Selection, which is more likely to take place in early March this year. 
"Romania and any other participating country must select its representative until March 19 2012, when the heads of delegation meeting will take place. So there is enough time. I hope that the songwriters have their songs prepared and that we can start our selection." says Manoliu through "Adevărul", the local newspaper.  
TVR intends to reveal the official date of the National Selection in the following days.
Below you can see a video about Romania's History at the Eurovision Song Contest. Last year Hotel FM qualified for the final with the song Change, which then came 17th.