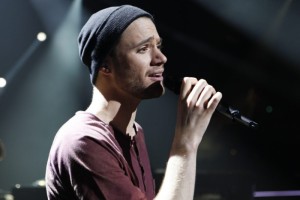 Germany is the first of the Big 5 to start their rehearsals. Roman Lob demonstrates that men suffer too when a relationship comes to an end and that this pain makes for a really good song associated with his bashful style.
Roman Lob is a heart-broken young man keen to start the next chapter in his life and he sets a melancholy mood in the opening bars.
He was joined on stage by two guitar players, a pianist and a drummer, all of them men, dressed mostly in black and white who were behind him during the whole performance but did not interacted with each other or with him at any time. Roman wore a maroon shirt, jeans and, of course, his distinctive wool cap, this time, black color.
Even his first rehearsal was vocally flawless the song seems to lose the clarity and warmth of the studio version and another potential weakness is that Roman's voice also lacks any change in texture and it has the same plaintive tone all the way through. About the staging, he was doing exactly what he was saying: standing still.
The stage lighting is golden with many white spotlights and, at the end of the performance, plenty of white lights appeared on the backdrop like it was a beautiful starry sky.
The male songwriter has been a highly successful figure in recent years and Standing Still is composed by another successful case, Jamie Cullum. You can argue that the music produced in these cases is pretty bland, but there is no doubt that it has a market.