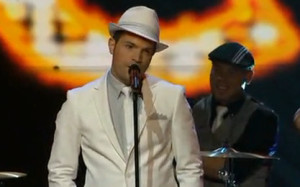 Roger Cicero who represented Germany at the Eurovision Song Contest 2007 in Helsinki and finished 19th with Frauen regier'n die Welt (Women rule the world) will release a new album. The CD In diesem Moment (In this moment) will be available from October 28th, 2011 on. Additionally he will go on tour in 2012.
In diesem Moment will be Roger Cicero's 5th solo album. His last three CDs Männersachen, Bezeihungsweise and Artgerecht all managed to reach the top 3 of the German album charts. Bezeihungsweise and Artgerecht also entered the top 10 in Austria and Switzerland.
In addition to the new album it was announced that Roger and his big band
will start a big tour through Germany, Switzerland and Austria in the
first half of 2012.
This is the current tour schedule:
Germany:

23/02/2012 Timmendorf – Maritim Seehotel (warm up Show)
25/02/2012 Dortmund – Westfalenhalle
26/02/2012 Wetzlar – Rittal Arena
27/02/2012 Dresden – Kulturpalast
29/02/2012 Frankfurt – Alte Oper
03/03/2012 Bremen – Halle 7
04/03/2012 Düsseldorf – Mitsubishi Electric Halle
06/03/2012 Nürnberg – Meistersingerhalle
07/03/2012 Mannheim – Rosengarten
08/03/2012 Münster – Halle Münsterland
10/03/2012 Erfurt – Messe
11/03/2012 Kiel – Sparkassen-Arena-Kiel
13/03/2012 Leipzig – Arena
14/03/2012 Köln – LANXESS arena
15/03/2012 Braunschweig – Stadthalle
17/03/2012 Mainz – Phönix-Halle
18/03/2012 Hannover – AWD-Hall
20/03/2012 Bielefeld – Stadthalle
21/03/2012 Berlin – O2 World
23/03/2012 Lübeck – Musik- und Kongresshalle
24/03/2012 Hamburg – O2 World Hamburg
25/03/2012 Oberhausen – König-Pilsener-ARENA
27/03/2012 München – Philharmonie
28/03/2012 Stuttgart – Porsche Arena
01/04/2012 Freiburg – Konzerthaus
02/04/2012 Saarbrücken – Saarlandhalle
Switzerland:
29/03/2012 Basel – Stadtcasino
31/03/2012 Zürich – Kongresshaus
Austria:
11.04.2012 Linz – TipsArena
12.04.2012 Graz – Stadthalle
13.04.2012 Wien – Stadthalle