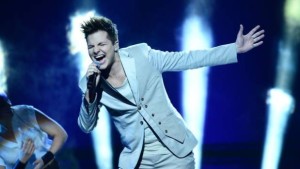 Tonight Sweden selected who is going to represent them in Eurovision Song Contest in Malmö in May.
It was a very exciting evening with no given winner. But after a thrilling voting procedure Robin Stjernberg was crowned winner of Melodifestivalen 2013.
The songs
Song number 1:  Ulrik Munther  –  Tell the World I'm Here
(Peter Boström, Thomas G:son, Ulrik Munther)
Ulrik is normally a great singer, but this week he has had severe problems with his voice. During the rehearsal on Thursday he sounded very hoarse and also missed a few notes from time to time. During yesterday's dress rehearsal it sounded better but not as good as we are used to hear him. The huge screen behind Ulrik is hoisted up at the end of the performance and both Ulrik and the stage is drowned with white light. He added that element for the final, probably to make the performance more dynamic.
Ulrik still sound a bit strained but it's much better than during yesterday's rehearsal.
Song number 2:  David Lindgren – Skyline
(Fernando Fuentes, Henrik Nordenback and Christian Fast)
David really steps up his game when he performs in front of an audience. There is a huge different between tonight's performance and the rehearsals. David still misses a few notes from time but it's not as bad as during Thursday's rehearsals. The camera angles are there, the dance, the cheering audience. Despite the missed notes it doesn't seem fair that the bookmakers keeps David in their bottom three.
Song number 3: State of Drama – Falling
(Göran Werner, Sebastian Hallifax, Emil Gullhamn, James Hallifax)
Falling is a song with great potential but it kind of disappears after an up-tempo songs like Skyline. The performance is a little bit to stripped-down, there is nothing happening at all except for when the singer, Emil steps down from his podium and heads for the catwalk. State of Drama gets a lot of applause and cheers after their performance.
Song number 4: Anton Ewald – Begging
(Fredrik Kempe and Anton Malmberg Hård af Segerstad)
Anton has really proved to be a dangerous competitor in the final being one of the artists in top of the Swedish Itunes list this past week. And probably he benefits from having to go through the second chance heat to come to the final, the viewers now recognize the song and the performance. Anton was criticised after the semifinal because the choir backstage did a lot of the singing. Now Anton sings, and he does it well.  
Song number 5: Louise Hoffsten – Only The Dead Fish Follow The Stream
(Louise Hoffsten, Sandra Bjurman and Stefan Örn)
The only woman in this years line-up. And unlike many of the other participants Lousie has no problems with her voice. Her voice and performance has been perfect throughout every rehearsal this week.
Louise is a great live performer and she delivers a solid performance. The green and blue lightsticks really enhances the performance.
Song number 6:  Ralf Gyllenhammar – Bed on Fire
(Ralf Gyllenhammar, David Wilhelmson)
Ralf is another one of the artists which has had problems with his voice during the rehearsal. Tonight it sounds much better than during the rehearsals on Thursday and Friday. When he succeeds to find the right notes this performance is really powerful with Ralf's strong voice and all the fire on stage.
Ralf seems to be enjoying his time on stage and there is even a glimpse of a smile.
Song number 7:  Ravaillacz – En riktig jävla schlager
(Kjell Jennstig, Leif Goldkuhl and Henrik Dorsin)
This is one of the most talked about songs this year. People don't seem to think it should be in the final. Both
Tommy Körberg and Mats Ronander are singers and of course it sounds very well when they are singing. But Claes and Johan's voices leaves a little to desire.
During the rehearsals on Thursday and Friday the four men really seemed to enjoy to perform their song and they seem do tonight as well.
The audience in the arena loves this and for the first time tonight the audience stands up in their seats.
Song number 8: Sean Banan – Copacabanana
(Sean Banan, Ola Lindholm, Hans Blomberg and Joakim Larsson)
Sean Banan for sure has the most spectacular show tonight. His performance contains confetti, a lot of dancing and a giant sparkly diaper.
There are a lot of things that can go wrong in this performance and tonight he doesn't get everything to work the way it's supposed to. The dancer who is going to grab Sean's cap misses it and when Sean is putting on his fake moustache he almost drops it. Despite this Sean is a true entertainer and the audience loves this.
Song number 9: Robin Stjernberg – You
(Robin Stjernberg, Linnea Deb, Joy Deb and Joakim Harestad Haukaas)
Robin is one of the debutantes and has been kind of an underdog up until after the second chance heat. He has a song that grows on you when you've heard it a couple of time. In difference to some of his competitors he haven't had any problems with his voice, he sings with power and feeling throughout the whole song.
Robin seems almost moved to tears as he finishes the song.
Song number 10: YOHIO – Heartbreak Hotel
(Johan Fransson, Tobias Lundgren, Tim Larsson, Henrik Göranson and YOHIO)
YOHIO have been tipped as a favorite since he qualified for the final from the first semifinal. Today he is in the lead of all polls on Swedish websites. During yesterdays dress rehearsal he sounded a little hoarse and straind but today it sounds better but still he misses a few notes and sound hoarse in parts of the song.
The show
The show is opened with a recap of the highlights of Melodifestivalen 2013 so far. This is followed by a pre-recorded video of hosts Gina Dirawi and Danny Saucedo arriving to Friends arena for the first time. As they look up at the huge arena Gina says to Danny that they will look really tiny in there.A speaker voice then announces Gina Dirawi and Danny Saucedo on stage but instead there are two younger copies of them. They begin to sing a song called "Du ska till Malmö" (You're going to Malmö). After a few phrases the real Gina and Danny enters the stage and continue the song together with four former Swedish Eurovision Song Contest hosts Kattis Ahlström, Anders Lundin, Harald Treutiger, Lydia Capolicchio and this years Eurovision Song Contest host Petra Mede. 
Gina and Danny welcomes the audience and the viewers and explains how you should do to vote before they announces the first song.
After the ten competing songs EBU lady Lynda Woodruff is back to welcome us to the host city of Eurovision Song Contest 2013. Although there seem to be some confusions about which city is the host city this year. When she finally arrives to the right city, Lynda visits the arena and tries some local delicacies.
After Lynda's visit in Malmö it's time for the first interval act. Students from Manillaskolan, a school for deaf or hearing-impaired children and students from Adolf Fredriks musikklasser sings Euphoria together with Loreen. After this very emotional performance host Gina Dirawi talks to the artists in the greenroom for a while until it's time to announce the points from the international jury groups.
After the result of the international jury has been announced it's time for the second interval act. It is now 30 years ago Carola participated in Melodifestivalen with the song Främling. Carola celebrated the 30th anniversary of her song by performing an updated version of it in Friends arena. At the end of the song Carola sings along with the audience.
The result
In the final 50% of the points comes from an international jury that consists of eleven jury groups from around Europe and 50% of the points are given by the viewers.
International jury
Top 3
1.
Robin Stjernberg – You
2.
Ulrik Munther – Tell the world I'm here
3.
David Lindgren – Skyline
Viewers
Top 3
1.
Yohio – Heartbreak hotel

2.
Robin Stjernberg – You

3.
Anton Ewald – Begging

The full result
1. Robin Stjernberg – You – 166 points
2. YOHIO – Heartbreak Hotel – 133 points
3. Ulrik Munther – Tell the World I'm Here – 126 points
4. Anton Ewald – Begging – 108 points
5. Louise Hoffsten – Only the Dead Fish Follow the Stream – 85 points
6. Sean Banan – Copacabanana – 78 points
7. Ralf Gyllenhammar – Bed on Fire – 73 points
8. David Lindgren – Skyline – 69 points
9. State of Drama – Falling – 68 points
10. Ravaillacz – En riktig jävla schlager – 40 points
It surprised Robin a lot that he actually won and had big problems singing the song again, something which makes one think of Irish Johnny Logan from 1987 with Hold Me Now.