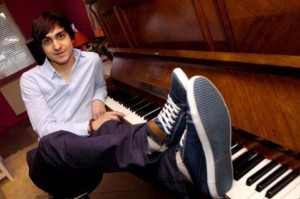 Record company Sony Music was invited to submit six songs to Belgian Francophone broadcaster RTBF, and it was the three tracks Reste Toi, Love Kills and Be Heroes that were deemed the best of the bunch. The Belgian final was, just like last year a low key affair, held as a live radio broadcast on Radio Vivacité.
It was the turn of Belgium to select their entry, and a small number of enthusiastic viewers were lucky enough to secure tickets to the event, broadcast live from the Vivacité studios, making it a very intimate affair. With young Roberto Bellarosa having won the last season of The Voice Belgique, the talent show that gave him his big break was incorporated into the proceedings with his rivals joining Bellarossa in the studio.

The show:
The show was opened by Bellarosa together on stage with those involved in the show giving a rather spritely rendition of ABBA's masterpiece Waterloo for so early on a Sunday morning which was very well received. Bellarosa was interviewed about what he'd done since winning The Voice Belgique, and getting the chance to plug his new album.
After Love Kills, the group reconvened, with Julie, another of the participants, interviewed about her her experience in The Voice Belgique. She then took to the stage to give her rendition of Céline Dion's 1988 classic, Ne Partez Pas Sans Moi which turned out to be a rather lacklustre interpretation, with her clearly screeching the higher notes, but the audience seemed to lap it up. Next up on stage was another competitior, Renato who gave an astoundingly successful rendition of Nel Blu Dipinto di Blu (Volare), Domenico Modugno's evergreen from 1958, only this time in an acoustic version with a distinct summery sound. There was definitely nothing wrong with his voice, and he would certainly have given young Bellarosa a run for his money.
A recorded message from his former coach from The Voice Belgique, Quentin Mosimann, who made it clear that he was backing the French language entry, Reste Toi. He also urged young Bellarosa to enjoy every moment of the experience, telling how an appearance at Eurovision could have such an impact on his career. With Reste Toi already having gained considerable exposure by being included on his debut album, Ma Voie; some might argue that this song had had an unfair advantage from the offset, but Bellarosa performed each song with equal  professionalism, not giving away which of the three was his personal favourite.
All four men taking part in the show then took to the stage to perform their version of Brotherhood of Man's tear jerker from 1976, Save Your Kisses For Me, their voices working very well together, although Bellarosa had somewhat dubious pronunciation in places, but on the whole, the foursome did justice to the Eurovision favourite. Following the second song in contention for the honour to represent Belgium in Malmö, we were treated to another average performance of one of the most emotional Eurovision winners, Johnny Logan's Hold Me Now from 1987 by another of The Voice Belgique's contestants, Marco.  It was then the turn of the two girls, Julie and Leonie to take to the stage to give viewers and listeners their version of Lena's massive hit from 2010 Satellite, which was to be honest, rather weak to begin with and with lyrics barely coherent in places but which improved markedly towards the end. One of Belgium's most successful entries, Tom Dice's 2010 entry Me and My Guitar was next up to be covered by Nicolas Dorian, a vocal coach from The Voice Belgique, giving a rendition that Mr. Dice would have been proud of. All of those taking part were given regular pop quiz questions about everything Eurovision, including sound clips of earlier Belgian entries, just to see if the had done their homework.
Julie took to the stage once more to give a rousing version of what is Belgium's only winner to date, the 80's piece of europop perfection, Sandra Kim's J'aime La Vie which naturally went down a storm with all watching. Renato came back once again, giving a striking stripped-down and updated performance of the 1976 Belgian entry by Pierre Rapsat, Judy et Cie, which came across extremely well. Julie and Leonie were back on stage to give a second rate karaoke sounding performance of oneof the stronger French language entries, France Gall's 1965 triumph, Poupée De Cire, Poupée De Son which was quite frankly a rather painful affair. Leonie was called back to the stage to perform one of the more popular French entries, Joëlle Ursull's rhythmic plea for racial harmony, White and Black Blues from 1990, which she failed miserably to do justice.
A recorded message from Natasha St-Pier was then played, who wished Bellarosa the very best for his Eurovision experience. St-Pier is due to take part in the next season of The Voice Belgique as a judge. Next up to entertain us was the trio of Roberto, Renato and Dorian with their interpretation of one of the most successful recent winners, Alexander Rybak and his 2009 stomper Fairytale. Their performance was competent enough, but just sounded odd as a trio with young Bellarossa parcatically being drowned out by the other two. The Malmö hopeful then took to the stage alone to perform a track from his debut album, Apprends-Moi. The last Belgian entry selected by RTBFfor Eurovision was then played, the acapella number by Witloof Bay from 2011, With Love, Baby.

The songs:
Love Kills is the first of the three songs to be performed and is a surprisingly uptempo number, considering the title. The young singer gave an competent perfromance, hitting more or less all the notes where he was supposed to, but straining his voice towards the end. Bellarosa appears to be very confident on stage, despite his young age and clearly enjoyed performing. Love Kills is a well crafted song, with a memorable enough hook, that could make enough of an impact internationally, but would it be enought to capture the attention of those listening?
Reste Toi was the second of the entries to be performed and was another upbeat, catchy, punchy number which oozes attitude, and which Bellarosa clearly seemed comfortable performing. The only gripe was that he gave something of a static performance; although vocally fine, he stood still for most of the time, looking more like he was singing karaoke at a local youth club. In terms of melody, Reste Toi is by far superior to Love Kills, with a much fresher, energetic and contemporary sound that was very well received in the studio and of the two songs performed was by far the most memorable.
Be Heroes was the final of the three songs to be performed and began with a bizarre clock chime intro before launching full throttle into an uplifting, swirling piece of europop. A fair enough effort, but Bellarosa's vocals sounded rather strained and huskier compared to the first two numbers.
Visually, the performance was uninspired with thepart sung in falsetto coming across as rather jarring. This was by far the weakest performance on all counts, but would the listeners and viewers share the same opinion?

The voting:
Just which song would be the successor to Iris' Would You? in Malmö next year was determined by a 50/50 combination of jury votes and public votes. Votes had been ticking in throughout the showand suspense was palpable as minutes dragged out before the resulsts were made known. Despite an apparent advantage, it was revealed that Love Kills was the choice for Belgium in 2013.
You might also want to read:
You can see a clip of the winning performance along with the other two candidate entries below.