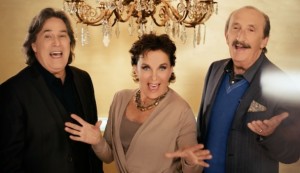 It has been ten years since the release of their previous album Parla Col Cuore (Talk With The Heart) and now they are back to celebrate their long career with more than twenty million albums sold worldwide. They represented Italy at the 1978 Eurovision Song Contest with Questo Amore finishing 12th
Perdutamente Amore that could be translated as Madly In Love is the title of the new album of Ricchi E Poveri. Besides the eponymous single, which has been a radio hit in Italy for the last weeks, it includes three unreleased tracks; Amore Odio, Musica Vita Mia and Dimmi Che Mi Ami and nine tracks from the history of Italian music such as Sarà Perché Ti Amo, Come Vorrei, Mamma Maria or Cosa Sei.
Their career began in Genoa in 1967 when Angela Brambati, Angelo Sotgiu, Franco Gatti and Marina Occhiena (who left the band in 1981) attracted the attention of Franco Califano who was their first producer. Since then, their long and versatile career is punctuated by the international success of their songs that has been recorded in Italian and Spanish and among them they boast some of the most popular Italian songs of the 80s and 90s. They have also participated at the Festival of Sanremo twelve times since 1970 to 1992 becoming winners in 1985 with the song Se M'Innamoro.
You can see the video for Perdutamente Amore below: