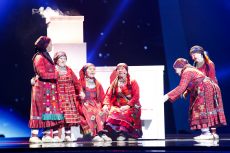 A large amount of press were in the Hall today to watch the Buranovskiye Babushki rehearse for a second time.  We were rewarded with a very steady performance.
Russia's first rehearsal went very well, and their second was also without hitches.  They were even able to run through the song four times during their 30 minute time slot.  Something many other countries have not had time to do.
Our Babushki were again in costume – as per their national final – so no surprises there.  They
also had their large bread oven on stage.  As we know, this revolves but the speed it revolved varied during the runs through the song.  At some points it was even static.
Our backdrop starts off as stars with a large spinning globe rising up.  Then once the music kicks in this disappears and we have more globes and maps merging and flashing in different colours.
Our grannies now have their dance routine fully sorted out.  During a break, a stage hand was dancing with the smallest of the Babushki which made everyone in the Hall smile.
The televoting public are going to like this song and on ther votes alone would be a contender for winning this semi-final.  The juries may have different ideas.  This, however, will be in the final.
Below is the 3D recording of the Babushki's first rehearsal.  Visit out Youtube channel for more 3D videos.