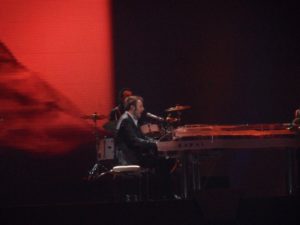 Raphael Gualazzi gave a confident performance of Madness Of Love with his musicians at the first rehearsal for Italy.  He created a cool atmosphere with this jazz type song.
Raphael is wearing a dark jacket and is sitting at the piano.  He is joined by 5 musicians. There is a drummer, bass player, guitarist, saxphonist and a trumpet player.
The background presents images of piano keys being played and then a large video backdrop of Raphael making the jazz vocals with the trumpet playing.
The whole atmosphere of a jazz club is felt.  Raphael gives a confident performance and this could well give Italy a strong placing in the final.