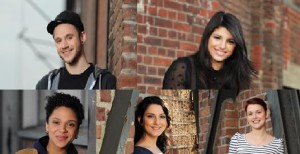 After five rounds the quarter final of the German selection Unser Star für Baku took place tonight. Five artists were left to compete for a place in the semi final. The German viewers decided via televoting that Katja Petri had to leave the show.
The show started at 20.15 CET and was broadcasted by the national German broadcaster ARD/Das Erste this time. After the first five rounds five artists were left. Each of them performed two songs, for the first time in this year's competition.
The songs:
1) Katja Petri – All you wanted (Michelle Branch)
Katja chose a ballad as her first song. Again she delivered a very good vocal performance. This kind of song really fits to her. 
2) Ornella de Santis – I'll be there (The Jackson Five)
For the second time in this competition Ornella chose a song by The Jackson Five. She puts lots of emotions to this performance and earns a big applause by the audience.
3) Shelly Philipps – Can't take my eyes off you (Lauryn Hill)
Shelly keeps on singing R'n'B songs. Her performance is very charming, although she seems to have some problems with the very low notes. The rap part during the song is performed in a very confident way.
4) Yana Gercke – Who knew (Pink)
After performing two uptempo songs in the last shows, Yana chose a rock song today. Especially in the chorus she shows how much power she has in her voice. The vocal performance is convincing, but Yana still appears a little bit unsecure while moving on stage.
5)
Roman Lob – You give me something (James Morrison)
Roman has become the top favourite to win the show. And again he delivered a flawless performance. He receives the biggest applause and goes straight up to the top of the live voting.
6) Katja Petri – Stay (Hurts)
Katja's second entry tonight is Stay. She changed this song into a very slow ballad. Again very suitable to her voice, but without the powerful choir of the original version the song appears slightly boring.
7) Ornella de Santis – Love the way you lie (Rihanna)
The interpretation of this song is full of emotions. Ornella's performance is very strong so that she already receives applause during her presentation.
8)
Shelly Philipps – Have it all (Jeremy K.)
Shelly continues with the style she is known for. This performance was a lot better than the first one. Shelly delivered a very good performance – vocals as well as the presentation on stage.
9)
Yana Gercke – Talking to the moon (Bruno Mars)
This time we hear a ballad by Yana. She shows that she cannot just perform energetic songs, but also knows how to sing slower and more quiet songs. This was definitely a very good performance by her.
10)
Roman Lob – Day by day
As his second song Roman chose a song written by his band. Day by day is a very common rock song. Roman delivers a very energetic and vocally very good performance.
The results:
Again the live voting was very close and exciting. At one point all five singers had a percentage of 20. At the end Katja Petri was voted off the show. The other four artists qualified for the semi final. This will be held next Monday, February 13th and be broadcasted by the private TV channel ProSieben. You can watch all performances here.