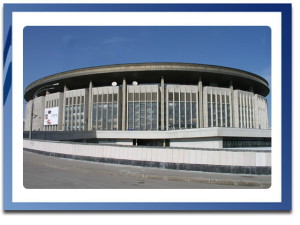 Vladimir Putin, the President of Russia, has offically announced that Moscow will be the host city for the Eurovision Song Contest which will be held in May of 2009. The reference group will still have to officially agree, but they are not likely to disagree with the Russian proposal.
Russia is hosting the biggest music event, the Eurovision Song Contest, in 2009 after Russian pop idol Dima Bilan won the previous contest with the song "Believe".
After the victory of Dima, there was much speculation about the host city between St. Petersburg and Moscow. St. Petersburg's Mayor, Valentina Matvienko, has announced that a northern city would be grateful to host the Eurovision Song Contest in 2009. But Dima Bilan however, pushed for Moscow to be host city in 2009, sparking a national debate over which would be more suitable.
Although Putin is a native of St. Petersburg, he has settled it and Moscow is an offical host city from now on for the Eurovision Song Contest 2009.
According to Deputy Prime Minister Alexander Zhukov, whom Putin has charged with coordinating the event, the dates have provisionally been set as Tuesday 12th and Thursday 14th May, with the final on Saturday 16th May.
Olimpiysky Sports Complex is a large indoor arena which was built for the 1980 Summer Olympics, and hosted the basketball and boxing events. The venue has enough space for 80.000 people inside. When there are sports such as basketball or tennis, the capacity is about 16.000 people.
EBU's reference group can still put a veto on the venue and host city suggested when they meet in September, but Sietse Bakker, Manager of Communications & Public Relations within the EBU Family, says to Eurovisionary.com that although it technically is possible, it is not likely that the reference group is going to reject the proposal put to them. He can't recall that it has ever happened before, but as he says, the venue will not be offically chosen before the reference group has had their meeting in September.
Links