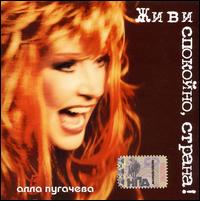 Alla Pugacheva, the Russian pop diva, announced her plans to retire from the stage. Pugacheva is known as Primadonna inside of the Eurovision Song Contest fans, who watched her in 1997, in Dublin.
Alla Borisovna Pugachova, who is very popular in Russia and the ex-Soviet Union countries, has dramatically announced her retirement. Alla Pugachova participated in the Eurovision Song Contest in 1997 which was held in capital city of Ireland, Dublin. She performed her semi-ballad pop song Primadonna and she came fifteenth with thirty-three points. Pugachova is also known as owner of the Alla perfumes in Russia.
It's known that Pugachova is planning to end her career after a tour around Russia and other ex-USSR. The main reason is her worsening health and the deteriorating quality of her voice. "I will not kiss the stage farewell, I am just ending my concert activity as a singer; the singer Pugachyova will leave the stage, but will become another Alla Pugachova, who has a radio station called Radio Alla, and theatre and cinema activities." she said to the Russian media.
Alla Pugachova was the last winner of the People's Artist award which was given to succesful artists in ex-Soviet Union before it was collapsed in 1991. 
You can also watch Alla Pugachova's performance of Primadonna in 1997 below:
Links