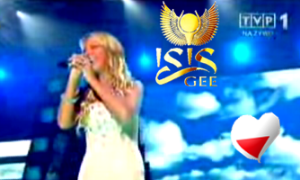 The Polish viewers and jury have chosen unanimously for Isis Gee with her song 'For life' a powerballad brought with serenity on stage.
Last Saturday, the 23rd of Febuary, the highest points from the public and jury went to Isis Gee and her power ballad at the 2008 edition of Piosenka Dly Europy in Poland.  One of the few occasions in national final history that public and jury agreed on the same entry.
The Polish National Final had a lot of R&B songs.  But one of the two ballads won the competition.  The only ballad in the native language was from Margo with her 'Dlatego Walcz' and it came 7th in the ranking together with the song 'Superheroes' from Sandra Oxenryd the representative for Estonia in 2006.
The Polish National Final contented also more names working in the Eurovision Circuit. For example one of the members of Man Meadow was Fredrik Olofson who was a backing singer for Belarus in ESC  2007. Also more Swedish names like G:son and Andreas Rickstrand putted their songs in the Polish as well as the Spanish National Finals.
It is a long time since Poland last chose a ballad for Eurovision.  A strong female voicalist represented the country (Anna-Maria Jopek with 'Ale Jestem') in 1997.  Eurovisionary wishes Poland and Isis Gee the best of luck on the 53rd edition of the Eurovision Song Contest in Belgrade.
Here are the results of 5th National Final organised by TVP – 2008 edition:
01. Isis Gee, For life 24pts (12+12)
02. Natasza Urbanska, Blow up 15pts (8+7)
=3. Men Meadow, Viva la musica 12pts (2+10)
=3. Plastic, Do something 12pts (10+2)
=3. Edi Ann, Lovin' U 12pts (7+5)
06. Izabela Kopeć, You've got my love 10pts (4+6)
=7. Sandra Oxenryd, Super Heroes 9pts (6+3)
=7. Margo, Dlatego Walcz 9pts (1+8)
09. Afromental, Thing we've got 7pts (3+4)
10. Starnawski & Urban Noiz, It's not a game 5pts (5+0)
11. Kasia Nova, The Devil 1pts (0+1)
12. Queens, I say my body 0pts
 Stay tuned for an exclusive interview with Isis Gee.
The video below is the reprise of the winning song 'For life' by Isis Gee.
Links