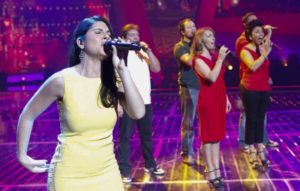 Filipa Sousa was shining brilliantly at her first rehearsal on this afternoon. Together with her five backing singers she left a very strong impression performing her song Vida Minha (My Life). Is she poised to bring her fado-inspired song to the final?
Portugal is on the edge in most polls to proceed or not to the final and everything will depend on the live performance. Today, Filipa Sousa has demonstrated that she is an excellent vocalist with a ravishingly beautiful, powerful and sultry voice and she seemed very comfortable on stage.
The staging was in accordance with the melancholy Portuguese folk sound of the song. The backing singers, three men and two women, had a simple choreography based on a slow movement behind Filipa. They were dressed in casual clothes and three of them were wearing something red leading us to wonder whether this is the color of the outfit they will be wearing. About Filipa, she was wearing a yellow short dress but a shiny golden one was shown to the cameras.
Beautiful backdrop, maybe one of the best seen so far, with the Lisbon cityscape.
Portugal is one of the veteran entrants to the Eurovision Song Contest and no country has sent so many entries to the contest without a win. Is this going to buck the trend? Why not? They have everything what is needed to succeed in the contest nowadays: a touching and melancholic song performed with utter professionalism.