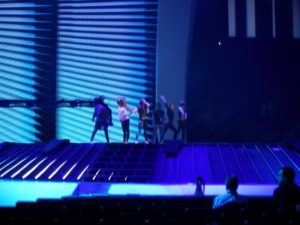 Poland kicked off the 2011 Eurovision Song Contest in Düsseldorf. A few moments ago Magdalena Tul finished her first rehearsal which left a good impression.
Performance:
In total we have six people on stage. Magdalena is accompanied by four female dancers – two of them backing her as well – and a male backing vocalist. After the first verse two female dancers move to the background and just continue with the backing vocals. In the bridge of the song there is a special dance routine.
During the verses the stage is coloured blue which turns into red as soon as the chorus starts. Pyrotechnics are used as well.
Clothing:
The costumes for the show are supposed to be coloured white/silver. At the beginning of the rehearsal they were shown for a moment, but Magdalena and her backings wore casual clothes today.
Impression:
The overall impression was very good. Magdalena's voice sounds clear. She hit all notes and the dance routine looks very professional. One of the female backing vocalists seemed to have problems with the sound. She did not really hear herself, but therefore noises of the arena.