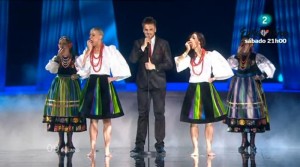 Polish national broadcaster TVP, reveals further details about the participants' names and their songs in the media for their national selection which is called Krajowe Eliminacje.
As you may or may not remember, in late December, Polish broadcaster TVP firstly announced the completed list of submitted entries and their performers online. This year, 43 submitted songs wil battle it out for the ticket to represent Poland in Düsseldorf:
Bodzio Dance – Warto wierzyć w marzenia

ZoSia – Ta dziewczyna (Tik Tak)

ZoSia – Scream Out Louder (S.O.L.)

Edyta Strzycka – Teraz bez Ciebie

Patryk Smolarek – Love Me

Anna Gogola – Ktoś taki jak Ty

Magdalena Manville & Andy Stroke – Dangerous Ride

Paula – Flashing lights

Roby – Losu dar

Agata Bartolewska – Jesteś moim słodkim snem

Magdalena Matysik – The Solar Energy

Sara May – To the end

Hubert Bisto – Thinking of You

Hubert Bisto – Możesz wszystko

Dorota Szczepańska – Hey Mr Dj

Jakub Jasiecki – LaLaLa

Maximuss – You are not alone

Julia – Why

Red Mellow – Private Heaven

Uliasha – Nic na siłę

Systematic – Zmienimy świat

Marcin Siegieńczuk – Nie rezygnuj z niej

Red Bridge – Ogień

Peter Friday – Moja wirtualna miłość

Masters & Detmi – Miss California

Severus & Piotr Maciej Wojtasiewicz – The Light

Alergen – Hide and seek

X-Trans – Look me

Mistic – Glorifica

Dawid Koczy – TV Show

Anna Rydz – Nie masz szans

Adventure Project – Let's rock

Julino Rafaello – Rak

1Vision – We śnie

Aleksandra Wiśniewska – Stronger

Angelika Kiepura – Tak blisko, a tak daleko

Angelika Kiepura – Chleb i sól

Jola Tubielewicz & Popcorn – Dla Ciebie

Basta – Wróciła Dancing Queen

Wiktor Korszla – Sen

Van – I Fly – The Hawk

Detox – Oczy me zapłoną

Evenement – To co jest ważne
Later, TVP decided to reduce the number of qualifiers from the 43 songs down to between 4 and 10 entries with the help of an expert jury:
Magdalena Tul – Jestem
Anna Gogola – Ktos taki jak ty 
Roan – Maybe 
The Positive – Control
SheMoans – Supergirl 
According to TVP, The Positive and their song Control had to be disqualified due to the official participation terms of the Eurovision Song Contest. The song Control was previously released in 2009 by the group.
Following this disqualification, there became an opening for more songs in the national final, Krajowe Eliminacje, which had room for more contenders. Therefore, 6 more acts have recently been added to the list. The final list of participiants would appear to be:
Anna Gogola

–

 

Ktos taki jak ty

Ajda Fijal –

 

Hot like fire
IKA –

 

Say
The Trash –

 

Things go Belter with rock
Alizma – Bow to the bow
Formula RC – Ja, ty i ty i ja
ZoSia – Scream out louder
Up to now, there are ten acts that will be competing to take the golden ticket to Düsseldorf. The songs are already available online courtesy of YouTube