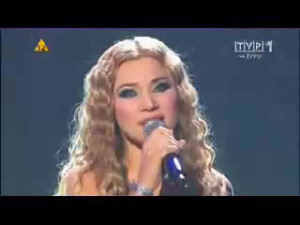 In one of many finals held tonight, Poland chose its entry for Moscow with the Piosenka Dla Europy 2009 contest. Lidia Kopania won the contest and will as such be representing the country in the 2009 Eurovision Song Contest with the song I Don't Wanna Leave. 
The Polish National final, Piosenka Dla Europy 2009, was held in the capital city of Poland, Warsaw. Ten songs performed to be the lucky winner of tonight's show. Special guests were 2004 winner, Ruslana and 2008 Polish singer, Isis Gee.
The songs were performed in this order:
1.   Stachursky – I Nie Mów Nic
2.   Det Betales – Jacqueline
3.   Man Meadow – Love is Gonna Get You
4.   Dali – Everyday
5.   Ira – Dobry Czas
6.   Artur Chamski – Kilka Slów
7.   Marco Bocchino & Ola Szwed – All My Life
8.   Tigrita Project – Mon Chocolat
9.   Renton – I'm Not Sure
10. Lidia Kopania – I Don't Wanna Leave
The show began with Stachursky's song, I Nie Mow Nic, in an 80's rock song style. Everyone remembers The Beatles and tribute band, Det Betales' turn passed successfully with the song Jacqueline.
Man Meadow, one of the favourite singers tonight, performed next. His song, Love Is Gonna Get You was written by the popular Swede, Thomas G:Son and Man Meadow performed well on the stage.
It must be rock's night, as the fourth performer, Dali, sang Everyday in a rock & jazz style after Man Meadow. And Ira, who competed in the 2003 Polish national final, was back to the stage with the song, Dobry czas, again in a rock style. 
The first different style of song performed successfully was the sixth song sung by Artur Chamski and was called Kilka Slow. The next song was another ballad, All My Life by Marco Bocchino & Ola Szwed. Tigrita Project brought a tango show to the stage at the 2009 Polish national final, with the song Mon Chocolate. This warm song gave the feeling that everyone was watching the Eurodance Contest. After Tigrita Project, the last rock song was performed by Renton and was called I'm Not Sure.
The last song was I Don't Wanna Leave, which won the vote of Poland's OGAE fans. Lidia Kopania reminded everyone of last year's Polish entry, For Life.
After the songs were performed, there was a period for televoting. There was also a jury vote and here are the results of the jury's vote:
12 points Renton
10 points Lidia
8  points Marco Bocchino & Ola Szwed
7  points Ira
6  points Dali
5  points Artur Chamski
4  points Tigrita project
3  points Det Beatles
2  points Man Meadow
1  point Stachurski 
Here are the complete results at the end of the night:
1.   22 points Lidia Kopania
2.   18 points Marco Bocchino & Ola Szwed
3.   18 points Renton
4.   13 points Artur Chamski
5.   11 points Ira
6.   9 points Man Meadow
7.   8 points Dali
8.   7 points Tigrita project
9.   6 points Stachurski
10. 4 points Det Beatles
Lidia Kopania has won the Polish national final with her song, I Don't Wanna Leave. She will compete in the second semi final of the Eurovision Song Contest at Moscow on 16th May.You can watch the song below.