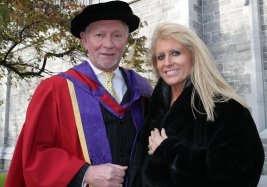 On the 7th of September at the National Concert Hall Phil Coulter and his wife Geraldine Branagan will hold a concert to commemorate the contribution of the Irish Defence Forces to the UN Peace-Keeping Forces over the last 50 years. 
Ireland has a long and distinguished history as part of the UN Peacekeeping Forces.  Since 1958 the Irish Defence Forces have been deployed to war-torn countries such as Lebanon, Cyprus, Bosnia, East Timor, Somalia and Congo.  This year is the 50th anniversary of the first deployment and Phil Coulter is helping to celebrate this anniversary.
Geraldine, like her husband, will be well known to Eurovision fans having represented Luxembourg at the 1975 contest with a son composed by Phil himself.  She has a special place in her heart for this anniversary as she was the first Irish artist to travel to Lebanon to entertain the Irish Peace-Keepers.
Tickets prices range from €20-€50 and can be bought directly from the National Concert Hall at their box office or online at their official website.