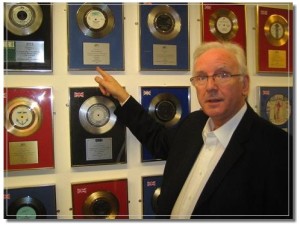 The BBC announced today that the highly successful record producer, Pete Waterman will produce the song that will represent the United Kingdom in Oslo.
In a statement on its Eurovision website, the BBC said,
Legendary hit maker Pete Waterman will produce this year's UK entry for the Eurovision Song Contest. The multi award-winning music maestro has been responsible for producing and writing over 200 hits throughout the last 25 years, and has worked with pop sensations from Kylie Minogue, Donna Summer, Geri Halliwell, Westlife and Bananarama to Steps, Rick Astley and Dead Or Alive.
The song will be performed at Eurovision 2010 which takes place in Oslo in May. Details for the selection process for the act that will perform the song will be announced at a later date.
Pete Waterman said: "Eurovision is one of those iconic competitions that has stood the test of time and keeps coming up with great acts, great tunes and great performances. Life's full of challenges and I'm relishing the opportunity to put my own stamp on this one."
One of the highest grossing producers of all time, Pete Waterman's music career spans over three decades – as songwriter, manager, producer, radio and television presenter and DJ. This is the first time Pete has been directly involved in the Eurovision Song Contest.
During the 1980s, Coventry-born Pete was also a member of the highly successful recording trio Stock Aitken Waterman. Their first number one hit was Dead Or Alive's "You Spin Me Round". He holds numerous awards including several Ivor Novellos and in 2004 was honoured with an OBE for his services to music.
Executive Producer Phil Parsons said: "This year, with an extremely successful pop writer, the aim is to build on the UK's success while moving on in style and doing something different. Pete Waterman has an incredible track record of hits that are known all around Europe so we're thrilled that he has taken on Eurovision."
Interestingly, the statement only mentions he will produce the song, it does not say he will write it. 
Links
Pete Waterman website
BBC Eurovision site
In my view
The first reaction of many fans may be less than positive as Pete could easily be seen as a name from the past, not the present. However, a moment's thought should conclude that he has a proven track record of writing and producing hit songs, in other words songs that appeal to the masses. This is exactly what a Eurovision song has to do. 

The opinion expressed in "In my view" are those of the author and are not necessarily the one of EuroVisionary.com.