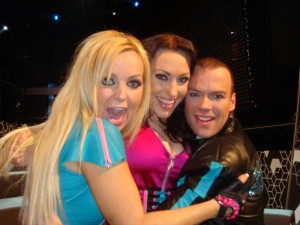 Alcazar hopes to be fourth time lucky & Peter Jöback makes his first appearance since 1990. Pernilla Wahlgren is another familiar name while Darin is making an interesting debut. These were some of the names that were presented today as SVT revealed the full details for semi final 3 & 4 of Melodifestivalen 2010.
Semi final 3 – Gothenburg –  20th of February

Alcazar – Headlines
This is the fourth time for Alcazar in Melodifestivalen. They participated in 2003 with Not a sinner nor a saint, 2005 with Alcastar and 2009 with Stay the night. Their song Headlines is described as an uptempo song with lot's of energy. The topic of the song is gossip.
Crucified Barbara – Heaven or hell
The group was established in 1998 and their debut album "In destortion we trust" was released in 2005. The gruop consists of four girls, Nicki Wicked, Ida Evileye, Klara Force and Mia Coldheart. This is the first time Crucified Barbara participates in Melodifestivalen. Their song is described as a power ballad.
Darin – You're out of my life
Darin Zanyar finished in second place in Swedish Idol 2004. Idol was his big breakthrough and after that he has had a very successful career in Sweden. He has had big hits in Sweden with song's such as "Money for nothing" and "Perfect". Christer Björkman have been trying to convince Darin to participate in Melodifestivalen during the last four years but it isn't until now Darin thought it was the right time. His song is described as an emotional and intimate ballad.
Elin Lanto – Doctor Doctor
Elin Lanto has participated in Melodfestivalen once before. With the song "Money" she qualified to the second chance round in 2007. Unforunately the viewers chose to vote for Jessica Andersson's song "Kom" instead of Elin's song so she didn't make it through to the final. The composer's of Doctor Doctor describes it as a crazy good song.
Erik Linder – Hur kan jag tro på kärlek (How can I belive in love)
Erik had his big breakthrough in the Swedish tv-show Talang 2009. It's the Swedish version of Britain's got Talent. He released his debut album "Inifrån" in July 2009. Erik's song is described as a kind of  melancholy pop song with influences from the 70's.
Getty – Yeba
Getty is a new name for the Swedish viewer's. He has made movie soundtracks, he has been the singer in a band and he has performed in musicals. His song is described as exotic.
Johannes Bah Kuhnke – Tonight
For us Swede's Johannes is known as an actor. You can see him in several of SVT's productions and in a film from 2009 called " Så olika". Consequently it is Johanne's first time in Melodifestivalen. His song is described as an emotional power ballad.
Timoteij – Kom
These girls are still in High school and are not yet well known to the Swedish viewer's. Timoteij consists of the four girls Cecilia Kallin, Bodil Bergström, Elina Thorsell and Johanna Pettersson. Their song is described as a modern pop song with a touch of folk music.
Semi final 4 – Malmö – 27th of february
Anna Bergendahl – This is my life
Anna is yet another singer who became known to the swedish people through the talent show swedish Idol. It was in 2008 that she, at only age 16, managed to finish in the top 5 in the show.
Lovestoned – Thursdays
Lovstoned is band that consists of 1 german & 3 swedish members. The song is described as reggae á la Lovestone.
Neo – Human Frontier
Neo is a young singer who describes himself as a bit of an swedish answer to Mika. The song is described as uptempo pop.
Noll disciplin – Idiot
A young band consisting of 4 members. One of their inspirations is the punk rock band Blink-182.
Pernilla Wahlgren – Jag vill om du vågar
Pernilla Wahlgren is a well known name in Sweden. She was the favourite to win with "Piccadilly Circus" but ended 4th in Melodfestivalen 1985. She also took part in 1991 and in 2003 she sang together with the 1995 winner Jan Johansen in the song "Let your spirit fly" and ended 2nd (behind Fame and just ahead of Alcazar). The song is described as a classic swedish uptempo song about love.
Peter Jöback – Hollow
Peter is one of the wild cards this year. Peter has a career that started with his participation in Melodifestivalen 1990. He has played lead roles in musicals and had chart hits in Sweden. The competition producer of Melodfestivalen, Christer Björkman, reveals that he has been trying to persuade Peter to enter the competition for a long time. We can expect an anthemic song.
Py Bäckman – Magiska stjärna
Py is a famous composer and has written songs sung by a wide array of swedish performers. In 1988 she wrote the winner from 1988 – Stad i ljus. She also took part in Melodifestivalen 1992 where she ended up 5th with the song "Lång härifrån".
Sibel – Stop
Sibel took part in swedish Idol 2005 and her breakthrough came with the power ballad "That is where I'll go" in Melodifestivalen 2008 (7th place in the final). This time she will sing a fast pop song.
This news item was written with the help of Viktoria Karlsson.