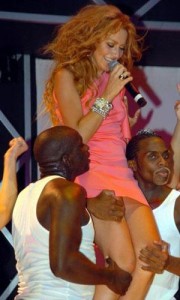 TRT the Turkish broadcaster had a poll about who should represent them at the 2009 Eurovision Song Contest. According to this poll female singer Hadise has been chosen. According to Hadise she has rejected a Belgian offer to represent them, but is pleased to be do it for Turkey.
The general manager of Turkish broadcaster TRT (Turkey Radio and Television Corparation) İbrahim Şahin has announced that Hadise has won the poll and they therefore have arranged that she will be representing Turkey in 2009 Eurovision Song Contest, instead of Belgium from where she rejected an offer. Şebnem Ferah, the Turkish rock diva, came second behind the Turkish- Belgian pop idol.
İbrahim Şahin has also announced that he has never met with Hadise before, but he admits that he loved Hadise's performance. "I watced her performance. Her shows are very good and she also has a very nice English accent  and other languages as she was born in Belgium. She also has very good sponsors, EMI is one of them. That means that Turkey will be promoted very well and so it will be an extra income for TRT."
According to Hadise, she is already ready to go to Moscow this year. She said "I am born in Belgium and I love the country but I want to participate for Turkey. I will definately go there whenever TRT wants me."
On the other side, Hadise's manager also added that Hadise has not received any offer yet. Following the example of the Turkish Eurovision Song Contest fans who want Hadise to represent their country at the Eurovision Song Contest 2009, the General Manager of Turkish broadcaster TRT favours Hadise. More news on the negotiations between TRT and Hadise is expected soon.