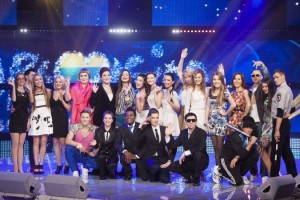 This Saturday the fourth qualification show from the Lithuanian national selection took place in Vilnius and in last night's show eight acts were competing for another three tickets to the semi-finals. The guest performance of the night came from Julija Ritčik, the lead singer of 4Fun.
The results of the third qualifying heat were revealed at the beginning of the show and this week the combined jury and audience votes meant that the song that received the most votes from the audience, War Without End by Eden, did not make it to the semi-finals. Thus, the three artists who qualify for the next round are Elvina Milkauskaitė, Neringa Šiaudikytė and Božolė leaving the televoting winners relegated to fourth place and unable to move on to the semi-finals.
The eight acts who participated at this fourth heat were:
1. Freezing Kiss – Nothing To Lose (Paulius Jasiūnas / Sergej Kosiuga)
2. D'Oro – Will You Recognize Me? (Gediminas Rimkus Rimkevičius / Jurgita Čekatauskaitė)
3. Gintare Korsakaitė – Dreaming (R.Tautkus, Jokūbas Daubaris / Gabrielė Griciūtė, Raimondas J.Nabus)
4. Linas Adomaitis – I W Tonight (Linas Adomaitis / Bjorn Hansen)
5. Glaam – Love Is Freedom (Jonny Rose)
6. Girmantė Vaitkutė – Time To Shine (Vytautas Bikus / Girmantė Vaitkutė)
7. Chill Out, Have No Doubt – Time (Vytautas Karpauskas / Daniel Okeoghene Williams)
8. Gerai Gerai & Miss Sheep – War In The Wardrobe (Vilius Tamošaitis)
The guest performance of the night was Julija Ritčik from 4Fun, who represented Lithuania at the 2007 Eurovision Song Contest with the song Love Or Leave. She opened the show singing her Eurovision entry in Lithuanian language and she was also part of the jury.
The audience could vote for their favorites during the show by calling or sending sms to the numbers shown on the screen during each performance. The results of televoting were revealed at the end of the show as follows:
Linas Adomaitis: 12 points
Gintarė Korsakaitė: 10 points
Gerai Gerai & Miss Sheep: 8 points
Girmantė Vaitkutė: 7 points
Glaam: 6 points
D'oro: 5 points
Freezing Kiss: 4 points
Chill Out, Have No Doubt: 3 points
Next week these results will be added to the jury votes giving us the three songs that proceed to the semi-finals.
In the video below you can watch Linas Adomaitis' performance.