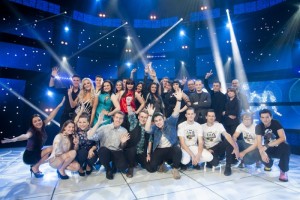 Tonight the third of five qualifying heats was aired in Lithuania with eight acts competing for three places in the semi-finals. As in the previous weeks, only the result of the televoting was revealed. The show featured the special guest performance of the 2009 representative Sasha Song.
The third qualifying show was aired in Lithuania tonight with eight songs competing for the three tickets to the semi-finals. As in the past weeks, also tonight's show was not live as it was recorded on last Thursday.
The songs:
1. Multiks – Crazy (written by Paulius Burba)
The song
is an uptempo track and there is a sheer vitality contained within these
three minutes that make it refreshing to hear. The lead singer has an
interesting voice that engages the listener, but at times he was out of
tune. The four members of the band were wearing casual clothes with the
lead singer dressed in black and the others wore white shirts with
the typical image of the television pattern test card. Very striking
were also the instruments they played such as a square guitar and a
keyboard decorated with so many colors which made them look even toy
instruments.
2. Eglė Jakštytė – Give Me The Music (written by Justinas Chachlauskas and Algis Gintautas)
This
is an uptempo club song with heavy beats and she has an incredibly
strong voice that fits perfectly with the energetic tune. She was
dressed in black with a leather jacket, shorts and high boots. Beside
her were four male dancers dressed in jacket and black pants and white
shirt and a female backing singer. The stage was lighted in blue and her performance was  highlighted by an energetic choreography that made the four dancers end
up lying on the floor. The result is nothing we have not heard already,
but that is not necessarily a bad thing.
3. Eden – War Without End (written by Andrej Viazinin, Jan Suchodolski and Oksana Treščenko)
This
is an alternative song of longing, a hard hitting rock anthem with
extremely blunt lyrics. The music is simple but despite its simplicity
there is something here that goes so much deeper that takes force with
the lead vocalist's screams. The five band members were dressed in black
and each of them remained at the same place during the entire
performance. Besides the lead singer the rest of the band consist of two
guitar players, a drummer and a female accordionist.
4. Elvina Milkauskaitė – Closer (written by Raigardas Tautkus, Raigardas Tautkus and Žaneta Daubarytė)
Simplicity
is what could make this song a winner. The melody sounds fresh and so does also the music arrangement and the way of singing. Her voice sounds angelic
and she has a great vocal range that was in full force tonight. She wore
a red shirt and black trousers and with her on stage there were three female
backing singers dressed in the same style as her. The backing vocalists had a small choreography moving their arms, but they did not move around the stage.

5. Sophie – Make It Happen (written by Eglė Sabaliauskaitė and Einius Jarutis)
This song has a magnetic and hypnotizing quality and when listening to it you can't help but be captivated by Sophie's smooth and effortless vocals that bring lightness and warmth to the song. She was standing alone in the middle of the stage, which was lighted in purple and she was wearing a long black tulle dress.
6. Neringa Šiaudikytė – Used To Be (written by Raigardas Tautkus)
It
is an upbeat song and could become a dance floor anthem as there are
some catchy hooks and saucy lines present throughout the song. She has a
remarkable vocal range reaching fine the high notes and her gorgeous
silky voice sounds great. She was joined by three male dancers dressed
in black with a synchronized choreography which Neringa joined at times and two female backing singers who wore red and black dresses. Neringa wore a
black outfit with silver trim.
7. Berta Timinskaitė – Missing You, Missing Me (written by Eric Palmqwist, Erik Nyholm and Johan Gunnarsson)
It is a sincere song that touches the listener and has a beat that digs into your brain. Her voice sounds soulful and she reaches heights of brilliance that perfectly capture the mood and essence of the song. She wore a blue dress and with her on stage there were three female backing singers and, just like her, they were dressed in blue and black. They had a simple but effective choreography that allowed them to move around the stage during the whole performance with Berta joining them sometimes.
8. Božolė – Happy And Free (written by Andrius Borisevičius and Audrius Balsevičius)
Singing this kind of song with six voices chorused is quite a risky option, but they give the impression that they are stamping their own trademark on the song with their soothing vocals. Lyrics makes you feel like you are on top of the world and feel good about yourself. The stage lighting was pink and the six members of the group, three men and three women, were all dressed in casual clothes. They carried out some choreographed moves very naturally.
The show:
The two-hour show started at 20:00 CET (21:00 local time) and it was aired by LRT and streamed on the official website. As previous shows it was hosted by popular Lithuanian television host Andrius Rožickas.
It began with the guest performance of the night that came from Sasha Song singing the Lithuanian language version of Love, his 2009 Eurovision Song Contest entry.
All the participants from tonight's show came into the set in running order while in the background we could listen to the 2006 Lithuanian entry We Are The Winners by LT United. From that moment, the audience could start voting for their favorites.
Tonight's jury members were Zita Kelmickaitė, Ramunas Zilnys, Deivydas Zvonkus and Sasha Song. After each song, they gave their views about the performance.
The results:
This evening the names of the three artists from the second heat who will proceed to the semi-final rounds were officially revealed. After combining the jury and televoting results it was produced the same outcome that televoting announced during last week's show. So definitely, the three acts who will participate in the semi-finals on the 8th and the 15th of December are:
Beissoul & Gabrielė Griciūtė with Beautiful Life (8 points from televoting + 12 points from jury)
Ieva Zasimauskaitė & Gabrielius Vagelis with I Fall In Love (10 points from televoting + 10 points from jury)
Timohi with Time For Life (12 points from televoting + 6 points from jury)
Tonight, the audience could vote for their favorites during the show and the jury members will vote later next week with the three qualifiers to be confirmed on next Thursday. The provisional audience votes were shown from time to time during the show, but the final results were announced at the end and were as follow (top three are in bold):
Multiks: 228 (4 points)
Eglė Jakštytė: 298 (5 points)
Eden: 1367 (12 points)
Elvina Milkauskaitė: 931 (10 points)
Sophie: 654 (6 points)
Neringa Šiaudikytė: 811 (8 points)
Berta Timinskaitė: 206 (3 points)
Božolė:662 (7 points)