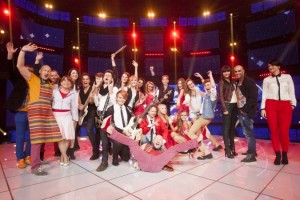 Last night the Lithuanian TV viewers were once again asked to vote among eight songs presented to them – just as the jury would be doing. We already know which three songs the jury ended up preferring, but it will be almost another week before we know if the TV viewers agreed.
Before the second quarterfinal, held last night, the Lithuanian broadcaster announced that the three qualifiers from the previous week was:
Saules Broliai – Loreen (12 points)
Gabrielius Vagelis – Sacrifice (10 points)
Andrius Pojavis – Something (8 points)
Gabrielus Vagelis qualified thanks to the jury, while the other two also was prefered by the televoters. Time will tell if we also will see the population in disagreement with the jury for next three songs to be picked for the semi-final. The 8 songs competing last night were:

Nerius Peciura – Kas Gali Pakeisti Gyvenima

Timohi – Time For Life

Giedre Smolskaite – Stay Awake Tonight

Ieva Zasimauskaite & Gabrielius Vagelis – I Fall In Love

Alive Way – Revolution

Mundis & Elvina – Aš Ilgiuosi Taves

Beissoul & Gabriele Griciute – Feeling Hopeless

Feliksas Merlin – Silent Scream 
At the end of the show the result from the jury was announced. They awarded their top points to Timohi, Ieva Zasimauskaite & Gabrielius Vagelis and Beissoul & Gabriele Griciute. Next Friday the result from the televoting will be announced telling us if these three acts also will be the qualifiers.
The semi-finals in Lithuania takes place on the 8th and the 15th of December, but before that we will have some quarterfinals left to take place.