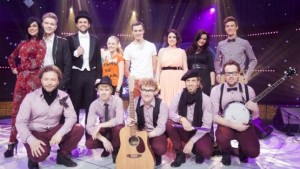 After having presented a total of 33 acts LRT started its first preliminary heat tonight. 8 songs competed in a show that offered a song by a former Eurovision songwriter and as a special treat for Eurovision fans also a song about last year's winner Loreen.
It is a very long selection process the broadcaster, LRT, are having to find its 2013 Eurovision Song Contest representative. A total of 10 shows will be shown to the Lithuanian TV viewers ending with a final on the 22nd of December. The first two shows were presentation shows and tonight it then really kicked off with its first preliminary heat. 
Naturally there was quite high expectations to song nr. 5 titled Loreen. It is written about the Swedish 2012 Eurovision Song Contest winner and for sure was one the fans looked forward to. Song nr. 1 and 8 also had reasons to expect a lot. Samanta Tina is one of the most popular singers in Lithuania and she has before participated in the national selection, while song nr. 8 is written by TJ Oosterhuis, who wrote the Dutch 2007 entry On Top Of The World sang by Edsilia Rombley. Tonight his song will be performed by Julija Jegorova, who won the Lithuanian version of the famous talent show The Voice. 
The songs:
Song nr. 1: Vudis ir Samanta Tina – Hey Chaki – Mama (Written by: Arvydas Martinėnas and Gorgi)
We start out with a pop song with dance rhythms. On the stage all in purple and black we have Vudis dressed in a black suit with open jacket and Samanta in a tight red jump suit. They sing to each other, but are not showing off a lot of dance moves. The chorus is quite catchy, but also one that quickly becomes annoying.
Song nr. 2: Vincentas Linkevicius – Dance The Night (Written by: Mindaugas Lapinskas and Eglė Petrošiūtė)
Next is 6 people on stage. Vincentas, the lead singer has two male backing singers and a total of three female dancers with him. Everyone on stage is dressed in very colorful 80's outfit. The stage is mainly orange during this song, which is a more quiet pop song. It is very easy going and certainly one that makes you in a good mood despite being quite far from a masterpiece. 
Song nr. 3: Gabrielius Vagelis – Sacrifice (Written by: Erik Nyholm, Niklas Hast and Sam McCarthy)
Gabrielius is dressed in casual nice trousers and a shirt. He looks very young and nervous as he stands there on the stage, which looks a bit odd having in mind that this is a more rock ballad. It is quite nice to listen to, but it never really touches you as he has problems connecting with the audience. 
Song nr. 4: Ugne Smile – Call To Your Mum (Written by: Ugnė Kudlaitė)
We continue with an even younger participant, but this female leadsinger sure has now problems giving her all in this rock song. The rest of the band consist of two guitar players and a drummer, all men. The song is quite energetic and she for sure is fun to look at it, but it sounds too much like Junior Eurovision Song Contest.
Song nr. 5: Saules Briolai – Loreen (Written by: Vytautas Bikus and Donatas Petreikis)
And now to something complety different! 5 men with various folk music intruments on stage. They are all dressed in wine red trousers and pink purple-ish shirts. The song is quite a school pop song. It is extremely fun and catchy, but at some point you really think the constant repeat of "Loreen, I Wanna Be Your Song" is too cheasy, but never the less then this song both made me and probably also Loreen herself smile.
Song nr. 6: Valery Iljinaite – Taip Noriu Vėl (Written by: Vytautas Karpauskas)
Valerija is alone on stage, she is dressed in a black dress with a very long trail. She is also wearing black gloves while the stage is mainly in red for this song. The song is a ballad with a few technical sounds to it, one migth even say that it is a little bit inspired by Loreen (the singer!). Unfortunately for Valerija it is a song, which you have forgotten about the second it ended. 
Song nr. 7: Andrius Pojavis – Something (Written by: Andrius Pojavis)
Yet another particpant alone on stage. Andrius is dressed very formal with a black suit and a high black hat. If however you were expecting an opera song you would be surprised. It starts as a ballad, but quickly moves into being a pop song. The stage is purple, blue and pink and looks so much larger with Andrius standing so still. 
Song nr. 8: Julija Jegorova – I'll Carry You (Written by: TJ Oosterhuis, Raphaella Mazaheri Asadi and Hiten Bharadia)
The last song of tonight is performed by The Voice of Lithuania Julija this time, quit appropriate with a Dutch songwriter, dressed in a long orange dress with a black belt. Tonight she has four backing singers with her dressed in black. The song is a ballad and sure reminds of TJ Oosterhuis' previous work. It is very beautiful and powerful and would suit any national final.  
The show:
The show that started at 20:00 CET (21:00 local time) was hosted by Andrius Rožickas who was dressed in a black suit and a red polka dot tie hanging a bit differently. The show kicked off with a performance where a band had a bunch of singers in front of them all dressed in black and white. After that all the participants were presented on stage to the tune of Lithuania's 2006 entry We Are The Winners. 
Before the 8 songs were performed the jury was presented. It consisted of three men and one woman. After each performance they told their opinions and gave good avise to the contestant who was still standing on stage at that point. 
After all the songs had been performed it was time for a re-cap before the singers from the opening act came on stage again for another song. 
The result:
After the performance of all eigth songs it was time for the voting. Only three songs would continue to the semi-finals that will be held in December. The decision was made up in a combination of tele – and jury voting. It was possible to sms vote all through the show and at several time the standings was shown with a clear leading to the Loreen song.
Only the result of the televoting was announced. That showed that indeed Saules Briolai's Loreen got the most votes. Full televoting result is as follow:
1st place: Saules Briolai
2nd place: Andrius Pojavis 
3rd place: Vincentas Linkevicius
4th place: Gabrielius Vagelis
5th: Vudis ir Samanta Tina 
6th place: Valery Iljinaite
7th place: Ugne Smile
8th place: Julija Jegorova
It is at the moment very unsure which three songs qualified for the semi-finals as the combined result wasn't mentioned. Stay tuned on EuroVisionary as we update as soon as more is known.  
Lithuania at the Eurovision Song Contest:
After its debut at the contest in 1994 Lithuania have participated a total of 13 times. Aside from a much surprising 6th place in 2006 the country isn't exactly use to the top positions. When Danny Montell scored 70 points at the 2012 contest in Baku, Azerbaijan and thereby secured himself a 13th position with the song Love Is Blind that was the best Lithuania had achieved since 2006.