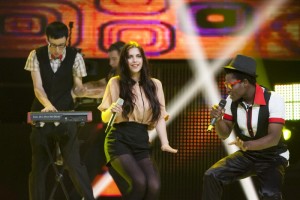 The first heat took place this Saturday with a two hour show that was broadcast by LRT. It was a pre-recorded presentation show where seventeen acts were introduced to the audience, however the songs they performed were not their own songs but well known hits. There was no voting.
The show was hosted by Andrius Rožickas and it started with the performance of Donny Montell singing his Eurovision entry Love Is Blind. Then the seventeen participants were appearing on stage one after another, with the only interruption of commercial breaks or a group of six female dancers who livened up the show.
Most of the selected artists chose well-known songs, Lithuanian and foreign hits, to sing in their own style and, after their performance, they urged the audience to vote for them. Among the participants there are several known names such as Multiks or Chill Out, Have No Doubt from last year's national selection as well as some of the participants of the talent show The Voice of Lithuania.
Below you can see the list of artists who took part in this presentation show in running order and the titles of the songs they performed:
1. El Fuego – Miserere
2. Chill Out, Have No Doubt – I Like Ya' Dirty
3. Baiba – Euphoria
4. Berta Timinskaitė – Jurgos Arija
5. Al Bagdo – Očarovana, Okoldovana
6. Ieva Zasimauskaitė – Kai Girdžiu Tave
7. Monika – Happy
8. Nėrius Pečiūra – Meluok, Meluok
9. Julia Jegorova – Žinau Tai Tu
10. Sophie – Hallo
11. DAR – Everybody Knows
12. Gabrielius Vagelis – If Tomorrow Never Comes
13. Eden – Be Tavęs
14. Neringa Šiaudikytė – Nepalik Manęs
15. Vincentas Linkevičius – Somewhere
16. Ugnė Smile – Sweet Dreams
17. Multiks – Audra
At this point of the national selection, there will not be voting but all the performances will be uploaded on LRT's website and visitors can vote for their favorites. Initially, this will not in any way affect the definitive outcome but the winning artist from this online voting will win interesting prizes from the sponsors of the show.
The broadcaster LRT announced that another presentation show with the rest of candidates will be aired this weekend and after that will come five qualifying rounds that will take place on consecutive Saturdays. The two semi-finals will take place in early December and the Eurovizijos 2013 final is scheduled to be broadcast around Christmas time.
Last year, Donny Montell represented Lithuania with the song Love Is Blind and he managed the fourteenth place. Below you can watch our 3D video of his performance. As always, we strongly recommend watching this video in 3D to enjoy it to its fullest, but if you do not have a pair of suitable glasses this can easily be turned off in the player below to watch in regular 2D.