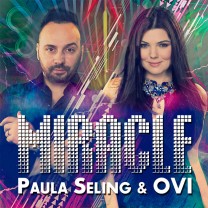 Paula & Ovi won the right to represent Romania for the second time in the  Eurovision Song Contest. Paula & Ovi clinched victory in the Romanian national final with the song Miracle. The Transylvanian country will compete in the second semi-final on 8th of May.
Paula & Ovi became the 16th Romanian representative after winning the 2014 Selecţia Naţională. The duo won again the right to represent Romania as twelve acts competed for the ticket to Copenhagen. They will sing the song Miracle.
The songs
1. Paula & Ovi – Miracle (Music & Lyrics: Ovidiu Cernăuţeanu, Phillip Halloun, Victor Forberg Skogberg, Frida Amundsen) 
The popular duo Paula & Ovi kicked-off with a bang. Ovi clad in a black suit and Paula dressed in a long elegant black dress. In the begining of their performance a female dancer appeared on a screen between the two singers. Their vocal performance was exceptional but still not convincing as their 2010 performance. During the bridge, Ovi played some notes on a piano similar to that used in Oslo when they sang Playing With Fire. Overall it was an energetic presentation.
2. Bere Gratis – Despre mine şi ea (About Me and Her) (Music & Lyrics: Marius Bob, Mihail Georgescu) 
It was time for a rock ballad with the lead singer joined by a female singer, two guitarists, keyboard player and a drummer. The lead singer is clad in a black suit with a white trim. The song didn't grow enough to make it an unforgettable in the line-up.
3. The dAdA – Unpredictable (Music: Mihai Ungureanu, Septimiu Urzică, Theodor Nicolae, Marian Bobiceag / Lyrics: Mihai Ungureanu, Marian Bobiceag) 
This was surely an unpredictable presentation as the band was joined by a magician who was doing some exceptional shows on stage. The style of the song was electronic-rock with some rapping. The band included guitarists, keyboard player and a drummer. The vocals were good but there nothing eventful to take note of.
4. The Zuralia Orchestra – You Know (Music & Lyrics: Aurel Mirea)  
It was time for something completely different. The lead singer was clad as a circus ringmaster. The style of the song was RnB with traces of folk and pop-classical music. A clarinetist appeared behind the lead singer. The song presentation was impressive and well received by the audience.
5. Vizi Imre – Kind of Girl (Music & Lyrics: Vizi Imre) 
Vizi was next on stage wearing a black top hat and a black outfit. His voice was soulful with a 70's music style. He was holding chocolates and flowers while singing about love. Vizi is a true artist and showed this on stage but his presentation was not appreciated enough by those present in the theatre.
6. Anca Florescu – Hearts Collide (Music: Gabriel Băruţă / Lyrics: Alexandra Ivan) 
Anca Florescu was the sixth act to go on stage and sang an uptempo catchy song. She was accompanied by male dancers while a wind machine was used for this presentation. This was a typical well rehearsed Eurovision act with Anca clad in a beautiful red dress. Her vocal performance was very good which showed that she is a contender. 
7. Silvia Dumitrescu – Fiorul iubirii (The Thrill of Love) (Music & Lyrics: Virgil Popescu)
Next on stage was Silvia who was wearing a black outfit. The singer moved a bit around the stage while hearts were projected on the background screens to show the thrill of love. The style of the song was a bit outdated and no oomph factor in it. She also sat on stage, infront of a candle. 
8. Renée Santana & Mike Diamondz – Letting Go (Music: Mihai Alexandru / Lyrics: Alexandra Niculae, Mike Diamondz)
It was time for something more modern, fresh and energetic. The production and presentation of the song was exceptional as Renée Santana & Mike Diamondz performed well their parts in the song. The lyrics were easy to sing with. The flashing lights used in this song added to the party environment created on stage. 
9. Ştefan Stan feat. Teddy K – Breathe (Music: Eduard Cârcotă / Lyrics: Teddy K) 
Ştefan Stan introduced the song and soon after Teddy K joined him. They are both clad in black and a dark blue background is used for this song. There was also a lot of smoke used on stage for this presentation. The song was a bit repetitive and uneventful but the vocals were good.
10. Naomy – Daca tu iubeşti (If You Love) (Music: Jimi Laco / Lyrics: Rareş Borcea) 
Naomy was the tenth act singing a typical dated ballad. She was accompanied by a female backing vocal who had her parts in the song. Naomy pitched some high notes that showed how capable she is to sing live. Her husky voice and sentimental song showed that Naomy is a real artist. 
11. Vaida – One More Time (Music & Lyrics: Bogdan Taşcău, Cristian Dumitraşcu, Alin Ţigănuş, Alexandra Ivan) 
Vaida came next and sang a folky-waltz ballad song. Clad in a red evening dress she was accompanied by classical dancers, two backing vocals and an accordion player. The waltz in this song reminded us of Engelbert Humperdinck's Love Will Set You Free. This was a different song that showed how diverse is this contest.
12. Marcel Crăciunescu – Hardjock (Music & Lyrics: Marcel Crăciunescu) 
Marcel Crăciunescu ended the run through with his punk-rock song. Clad in a typical Romanian shirt he was joined by four dancers who also performed a typical Romanian dance to give it that traditional touch. In the presentation there was a lot of yellow and red flash lights to make a hardjock or rather a hardshock performance. 
The show
The national final took place in the Sica Alexandrescu Theatre in the Transylvanian city of Brasov. The show was hosted by the 23 year old Romanian beauty Nicolle Stănese. Prior to the national final, introductory red carpet show was broadcasted at the entrance of the theatre. Romanian actress and artist Stela Popescu, Corina Chiriac, Proconsul and Golden Stag winner Luminita Dobrescu were the special guests that performed in the interval act.
The voting
The winner was decided through a 50/50% jury and public vote. The seven jury members were able to read their votes while the tele-votes were announced by the host. The points were given in the Eurovision format i.e. 1-8, 10 and 12 points. Vaida won the tele-voting followed by Paula & Ovi. The duo won the jury vote and managed to win the Romanian ticket again.
Romania at the Eurovision Song Contest
Romania debuted in the 1994 Eurovision Song Contest. It's best position being 3rd, was achieved in the 2005 and 2010 contests. In 2005 Luminiţa Anghel & Sistem sang Let Me Try while in 2010 Paula Seling & Ovi performed Playing With Fire. Last year the country was represented by Cezar and his song It's My Life. He came 5th in the semi-final but couldn't finish better than 13th place in grand final. Paula & Ovi became the first Romanian artists to represent the country twice.
You might also want to read:
Watch the Romanian entry selected for the 2014 Eurovision Song Contest in the video below: