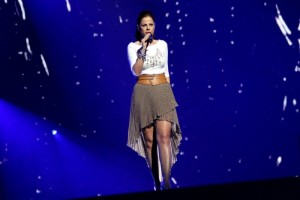 Pastora Soler had an excellent rehearsal this afternoon in front of a huge amount of press.  They were all behind her in spirit and she did not disappoint them
This afternoon we saw what is a seriously strong contender for winning the 2012 Eurovision Song Contest.  Spain has been so near yet so far many times, but they could finally take the contest to their country next year.
Pastora was wearing a white pattered jumper and a beige wrap-around skirt.  It's unclear whether she'll be wearing these next week.  For most of the song she was alone on stage, and was discreetly joined by five backing singers (three male, tow female) towards the end.  Each of the three runs-through she managed in her 30 minute slot were flawless.  There were a few technical problems which prevented a fourth rehearsal of the song.
The setting is predominently dark and spotlights move around at appropriate times.  We also see swirling stars on the backdrop which really add to the dramatic slant the song has.
This song has potential – serious potential – and the fact the betting odds are falling means that this will be the one to beat in the final.