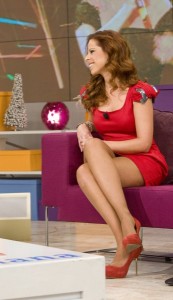 Spain have internally selected popular singer, Pastora Soler, to represent them at the 2012 Eurovision Song Contest in Baku.  There will be a national final and the song will be decided by the public and a jury.  TVE pondered over many bids from local acts and decided that Pastora will be the best candidate for Eurovision.
Pastora has had a lot of success in Spain. She was born in 1978 in Seville.  She has released 10 albums.  Her first release was in 1994.  Her latest album is titled Una Mujer Como Yo.  She is well known for her flamenco style music but also combines this with pop and dance style.  She has also had great success in in Latin and South America.
Pastora has another link to Eurovision.  She dueted with former 2007 Spanish national selection artist, Mirela, on the talent show Gente de Primera. 
You can see the video of Pastora & Mirela singing No More Tears originally by Donna Summer & Barbra Streisand below.
For more information about Pastora in the Spanish language check her official website.