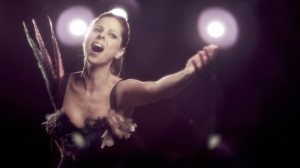 The 2012 Spanish entry at the Eurovision Song Contest already has its videoclip and it has been premiered at the TVE's program Corazón. The video, where Pastora is the absolute protagonist, highlights her strong interpretation of this deep ballad that now we can hear just as it will sound in Baku.
Pastora Soler, the Spanish representative at the 2012 Eurovision Song Contest, already has the video for her entry. The song and the video work perfectly together and they do not distract from one another. The video, created by Rafael Sañudo, shows the strength of the song and the interpreter and the minimalist setting and black backdrop make her the absolute protagonist. You can be completely engrossed in the video and not be taken out of the story the song is telling.
For the filming of the video have been used a high speed camera that enhances the movement with a lot of different shots. She wears two different dresses. At first, she is dressed in a very elegant black dress and at the end of the video her attire is trimmed in pink feathers. She is accompanied by a couple of dancers who perform a passionate choreography.
Quédate Conmigo, the song that Pastora Soler will perform at the final of the 2012 Eurovision Song Contest in Baku was composed by Antonio Sánchez, Thomas G:son and Erik Bernholm and it is a deep pop ballad with a melody that finishes in a crescendo to the end which allows her to show all her vocal power.
You can see the video below: