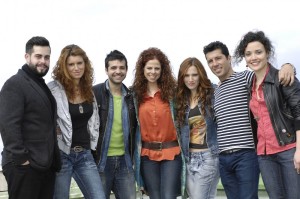 Little by little we know more details about the Spanish performance at the upcoming Eurovision Song Contest. TVE has revealed that Pastora Soler will be accompanied by a five-member choir including some familiar faces. The staging will be designed by the renowned choreographer Fracis Viñolo.
Rebeca Rods (mezzo-soprano), Mey Green (soprano), Sheila Blanco (soprano), Antonio Tomás Sepúlveda (tenor) and Miguel Antelo (tenor) are the five experienced professionals chosen by Pastora Soler to sing Quédate Conmigo with her in Baku.
Rebeca Rods is a Galician singer and composer. She started her classical music studies at the age of 8 and her first steps as a composer came soon after. She has worked as vocal director and producer in several musical theatre productions and as backing singer on tours for artists like Alejandro Sanz. She has also recorded commercial jingles and headers for radio and television. She is in love with gospel music and in 2009 she created her own gospel choir called Black Light and with them she released her first album in 2010. This will be her second Eurovision experience because she was singing at the 2007 Eurovision Song Contest as D'Nash's backing singer. She has also worked with another former representative, Daniel Diges, on his latest album.
Mey Green, whose real name is María López, is familiar to the Eurovision fans because she was among the candidates to represent Spain in last year's Eurovision Song Contest but she did not reach the national final. She had participated in the Spanish version of The X Factor and has been working as a backing singer with some of the most prominent Spanish singers like Rocío Jurado or Bertín Osborne. In addition, María has been part of the cast of the musical We Will Rock You and Anne Frank's Diary.
The third female backing singer is Sheila Blanco. She started studing piano and singing when she was a child. She writes her own songs and she has released her first EP entitled Sheila Down. She has worked as backing singer with artists like Raphael who represented Spain twice at the Eurovision Song Contest in 1966 and 1967 and Rosa López (2002 Spanish representative). Nowadays, she is one of the members of the gospel choir Black Light and lead singer of the jazz and blues band called Larry Martin with whom she has released their sixth album. She is also working on her first solo album.
Antonio Tomás Sepúlveda has studied music theory, singing, piano and percussion and he works as a professional singer. He is a member of the choir called Gospel Factory and he has worked with artists like Marta Sánchez or Daniel Diges, among others. He has also worked doing movie voice overs and singing commercial jingles.
Miguel Antelo is also an actor, singer, director, producer and composer who began his career as a television presenter and as an actor in musical theatres like Aladdin or Peter Pan. He has worked as backing singer for numerous national and international artists. He also used to work as a dubbing actor for some films and tv series. He has his own production company and he has created and directed the musical Érase Una Vez which was awarded as the Best Family Show in 2011.
We also know who will be responsible for designing the choreography of the Spanish entry. Francis Viñolo, is a stage director and choreographer with large national and international experience and he has worked with Pastora for over ten years. He studied at the Royal Company Dance in London and now he is a teacher at the Performing Arts center in Málaga. He is an established professional and in the last decade he has worked as a dancer and choreographer with many national and international artists like Carlos Baute, Patricia Manterola, Paulina Rubio or David Bisbal among others.