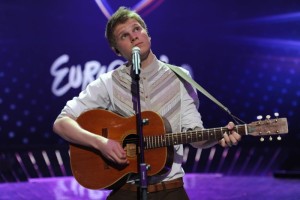 With numbers in rock, retro, pure pop and ethnic styles, Finland's Paradise Oskar and Da Da Dam was a nice way of rounding off rehearsals on day 1. The entry has been praised by some for its simpleness and honesty, whereas others have been quick to brand it naive and boring. How would the young performer come across on the huge Eurovision stage?
Huge was indeed perhaps the most fitting adjective to describe the stage that was otherwise blissfully free og gimmicks and props. With not even dancers or backing singers and only his guitar accompanying him on stage, Paradise Oskar's Da Da Dam comes across as quite refreshing in many respects. However, because the stage was so empty, his vocals boomed at times echoed throughout the arena.
The staging itself is stunning, with the beginning of the song accompanied by a black background and twinkling stars. As Paradise Oskar sings the first few lines of his entry, he is illuminated by a single white spotlight, with then transforms a little further into the song into blue and white spotlights, representing the colurs of the Finnish flag. The backdrop also evolves into a huge image of a revolving planet earth, in keeping with the content of Da Da Dam's text. Good camerawork revolving around the young singer makes his otherwise static performance appear a little livlier.
Casual was the tone for the choice of outfit for Paradise Oskar, with a simple combination of brown trousers topped off by a white shirt with panels of diagonal stripes. Blond Paradise seems almost childlike in his innocence,both with uncluttered staging and an almost vulnerable appearence.
Although vocally unchallenging, the young Finnish star should nevertheless be very happy with his first rehearsals, turning in a simple yet polished performance. With soft, soothing vocals could Finland's entry somehow be too underwhelming, sandwiched between Georgia and Malta, or could the contrast between the upbeat and understated entries work to the Finns' advantage?
In my view
Although the first rehearsal exceeded all expectations, it's very difficult to see where Finland is going to end up. It could honestly go either way, with the sheer simplicity of the song either being a huge hit with the viewers, attracting massive appeal, or it could result in the entry falling flat on its face.

The opinion expressed in "In my view" are those of the author and are not necessarily the one of EuroVisionary.com.