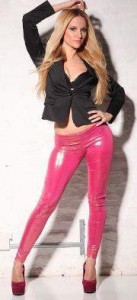 Former Feminnem member, Pamela Ramljak, has released a new solo single and video.  The song is called Mamin sin.  The song is an upbeat and melodic song with a feel good vibe.
Pamela Ramljak was on the Eurovision stage with Feminnem on two occasions.  First representing Bosnia-Herzegovina in Kiev with Call Me and then in 2010 in Oslo for Croatia and the song Lako je sve.
Now a solo singer, Mamin sin, is Pamela's second solo single following Ti me ne voliš released in April 2012.
Pamela was born in Bosnia-Herzegovina and besides being a former member of Feminnem she was also a finalist on Hrvatski Idol in Croatia.
Pamela has recorded a video for Mamin sin.  The production is by Filip Dizdar.  You can see the video below.
Will we see Pamela on the Eurovision stage in the future as a solo artist? Only time will tell.