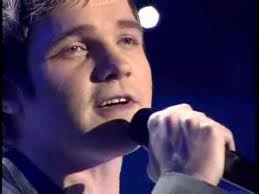 Estonia's process for selecting a song for Baku concluded tonight after Ott Lepland was picked with the song Kuula.  A combination of jury and televoting decided that this was the song that would compete for glory at the 2012 Eurovision Song Contest.  But how did Eesti Laul shape up?
Tonight's songs had already got through a rigorous selection process and had all earned their places in tonight's competition.  Eesti Laul this year had been a ground breaking affair, with a wide variety of styles.  Not only that, many of the songs were decidedly un-Eurovision in character.
Our host for the semi-finals Piret Järvis was joined tonight by Taavi Teplenkov and Tiit Sukk.
After each of the competing songs, we saw a brief comedy 'piece'.
Last year's entrant Getter Jaani kicked off the show with a new song NYC Taxi, which she performed after arriving in a taxi.  Stylisticaly, it was very different to Rockefeller Street with a far more pronounced beat.
After some brief chat, i was onto tonight's songs..
1. Loss Paranoias – Valedetektor (Lie detector) (Loss Paranoias) –
We immediately were hit by the distinct sound of the band.  Our lead singer was back in her 1940s hairdo singing in Estonian.  This could be the opening song to a Loss Paranoias gig, or the first track on an album, such was its liveliness.  It got a big cheer from the audience. 
2. Teele Viira – City Nights (Priit Uustulnd and Teele Viira) –
Teele was next on with the first song she was involved i.  Her solo effort meant her being accompanied by four female dancers.  She was in her now familiar leggings and a blue top.  She has a somewhat souly voice but a very memorable hook, if slightly repetitive chorus.
3. Liis Lemsalu – Make up my mind (Liis Lemsalu, Rene Puura) –
Yet another different style, as Liis sang a slightly funky-jazzy song. She was in blue, and seemed to command the stage.  She was accompanied by a band that included a heavily featured saxophone, which added to the song.  All in all, it was very 'cool'.
4. August Hunt – Tantsulõvi (Dance lion) (August Hunt, Keiti Kender) –
Back into Estonian for this off-the-wall performance.  All six of the band were in white shirts with bow-ties, black jackets and red jeans.  It's an immediate foot-tapper.  They seemed to be enjoying their tim stage but it was maybe, just maybe, a little too repetitive to get anywhere.
At this point, we were introduced to the expert jury whose deliberations would constitute 50% of the vote.  Among hem were former Eurovsion singers Ivo Linna, Ines, and Koit Toome.
5. Lenna – Mina jään (I'll Stay) (Mihkel Raud, Lenna Kuurmaa) –
Lenna's song was downbeat and slower than the four that had preceded it.  The verse was slow, but the chorus soared and showed off her vocals.  She wore a white version of the dress Iceland's Yohanna wore in 2009.  This song had another good hook which should hopefully win her a few votes.
6. POP Maniacs – I don't know (Rolf Roosalu) –
Teele was among the ensemble that sang this song that had a very heavy beat.  They were well co-ordinated, both with what they wore and how they choreographed this song.  It also got a very big cheer from the audience at the end.
7. traFFic – NASA (Ago Teppand, Jaan Pehk) – This had a very contemporary beat, and was also instantly catchy.  All of the band were dressed individually, as a rock band would.  They worked the crowd very well and it looked like it could well be in with a chance.
8. Tenfold Rabbit – Oblivion (Tenfold Rabbit) –
Tenfold Rabbit's lead singer was seated at a piano for this song.  He had a slightly falsetto voice so it gave this song a distinctive feel.  Very un-Eurovision in effect, it eventually broke into a rock beat before he took on the tune again. 
9. Birgit Õigemeel & Violina – You're Not Alone (Mihkel Mattisen) –
A vision in pink and black, Birgit's song contrasted with Tenfold Rabbit's.  It was easy on the ear, had a pleasing chorus, and well choreographed support in the form of Violina.  While the final so far had been of a very high standard, this one seemed likely to make the super final.
10. Ott Lepland – Kuula (Listen) (Ott Lepland, Aapo Ilves) –
Finally, local favourite sang this ballad.  He was in a grey suit and only accompanied by a piano.  Ott sold this very classy ballad very well.  Just off stage, a single female backing vocalist helped this song along.
With the phone lines now open for 20 minutes, we were treated to reprises of the 10 finalists.  As an interval act, we were treated to a song by 3Pead ja Bonzo.
While the phone lines were still open, the jury revealed their votes.  Ott Lepland and Lenna took a lot of the votes, giving the prospect of an interesting televoting result.  The finishing positions after the jury votes were converted to poins 1-10.  The televoting then awarded the same points 1-10, leading to a maximum vote of 20.  Our super finalists were then revealed as Ott and Lenna.
With our voting lines thrown open for a further 10 minutes, we had more music.  The winner would be chosen by 100% televoting.
The lines then closed and our three presenters appeared on stage to reveal that Ott Lepland had won the ticket to Baku.