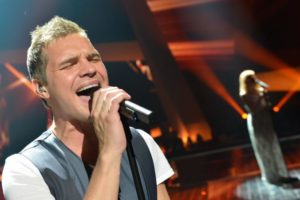 Ott Lepland delivered his first rehearsal of Kuula at the Crystal Hall today.  He had some technical issues but gave a simple but effective performance on stage.
Ott was wearing a grey waistcoat and grey trousers with a white shirt.  He was joined on stage by a female backing vocalist.
As the song begins the background is very dark and then then it shows falling leaves and this blends in well with the performance of the song.
Ott had to stop one of the run throughs because of a technical issue.  He checked with the sound engineers and they appeared happy that everything would be okay.
He also gave me the impression he was holding his voice back as he did not hit the 'big notes' in the song.
It will be interesting to see if there are any changes to the second rehearsal for Estonia later this week but the problems today should be easily reversed.