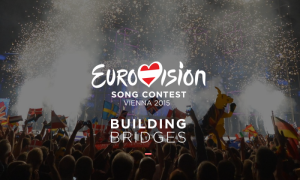 This evening host broadcaster ORF has revealed the slogan for the 2015 Song Contest; "Building Bridges" which proceeds 2014's #JoinUs and 2013's We Are One. From 100's of proposals submitted they picked the work of creative agency PKP BBDO.
Each year the Eurovision Song Contest is redesigned with a slogan, colour-scheme and theme to suit the staging in the respective host country. This evening it was revealed that ORF has chosen to work with the creative agency PKP BBDO to lead the 2015 campaign, with the strapline "Building Bridges". 
Speaking as the slogan was announced Dr Alexander Wrabetz; the Director General of host broadcaster ORF said "After the decision for Vienna as the host city and the nomination of the complete core team, we have set another important milestone on the way of organising the world's largest TV entertainment event by choosing the slogan. With "Building Bridges" we have chosen a theme, the idea of ​​Europe with the uniting character of music and that in Vienna, the traditional capital of world music in the heart of Europe." 
He continued by giving further detail on the decision to use the symbol and significance that bridges can make to life; "The end of the Second World War marks the 70th time European countries shake hands with each other – in Austria, the country that has always assumed a central role as a mediating instance, as a bridge between the East and the West. We understand this slogan as a logical extension of the idea
Conchita Wurst
formulated at the 2014 Eurovision Song Contest and also lived: the importance of openness, tolerance across all borders for a joint interaction. With the song contest in Vienna, we want music to build bridges across borders, cultures and languages​​. In light of the unifying power of this great common European event, we invite all to build bridges and to join hands."
The boss of the contest, Jon Ola Sand said he is really happy with ORF's choice: "It's a great slogan that captures what the Eurovision Song Contest has been all about since 1956 – bringing people together. We are looking forward to continue building with our colleagues in Austria for the next eight months – it will be the biggest bridge ORF has ever built!" 
The 60th Eurovision Song Contest will be staged in the Wiener Stadthalle in Vienna with Semi Finals on Tuesday 19th and Thursday 21st May and the Grand Final on Saturday 23rd May 2015.
Stay with EuroVisionary on the road to Vienna as we gear up for the diamond jubilee!