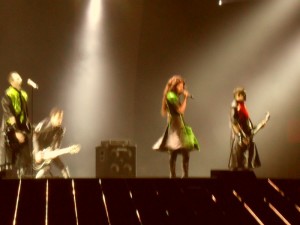 Georgia participates only for the fourth time in the Eurovision Song Contest and so far the Caucasian country has been very successful. In every participation they managed to reach the final. Can they do this again in Düsseldorf?
The performance is convincing. It is full of energy and the lead singer's voice is very powerful. The band Eldrine has six members in total – the female lead singer, three guitarists, one female keyboarder and one drummer. They are all dressed in a bit of Gothic style. While the lead singer is wearing a green/black dress, two guitarists wear long coats (green/black and orange/black). The rest of the band is completely dressed in black.
The stage is lighted in different colours and the spots cause again a very energetic atmosphere. There are several close-ups on the screen.
Due to technical problems the rehearsal had to be interrupted for about 5 minutes.