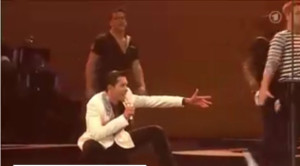 This evening at the Echo Awards in Germany, there was a special performance of the song thas was internally picked to represent Germany at the 2009 Eurovision Song Contest. This is the oppertunity to get an idea about how the song will look on the stage in Moscow.  
Alex Swings, Oscar Sings, the duo picked by NDR to bring Germany it's second victory in the Eurovision Song Contest, officially presented their song. Miss Kiss Kiss Bang. It is, as the name of the duo might suggest, a swing style song, but has a very modern feel to it.
You can watch the performance of the song below.