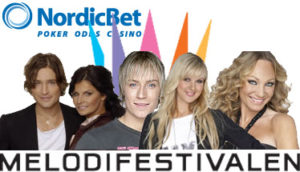 If NordicBets odds are to be trusted Carola Häggkvist and Andreas Johnson will qualify for the final in Globen via the Second chance round. Ola and Sibel will be fighting for the second spot, but Charlotte Perrelli or Sanna Nielsen will win the final.
On Saturday eight songs will compete in the so called second chance round in Kiruna, Sweden. Two of them will win a place in the Swedish final and still be in the run to represent Sweden in Belgrade in May. Bookmaker NordicBet are now offering bets on which two songs will qualify and according to their odds Carola Häggkvist and Andreas Johnson's One Love is the biggest favourite with a low 2/5 in returns should they make it. Ola's Love In Stereo offers a 1/1 payout, while Sibel follows with 3/2.
Thérèse Andersson is not completely chanceless with 5/2, nor is E-type & The Poodles with odds 4.50, but should anyone want to prove the bookmakers wrong it must be up to Suzzie Tapper. NordicBet really does not believe in her as the offer the very good odds 15 to anyone who believe that her Visst Finns Mirakel will make it.
That NordicBet really believes in Carola and Andreas can also be seen by the fact that in the total odds for who will win the final in Globen they currently have them in 4th position ahead of names like Linda Bengtzing, Rongedal, Christer Sjögren and Frida Feat. Headline who already qualified directly for the final by coming either first or second in their pre selection heats. It is in particular interesting that odds for Carola and Andreas are 6 to 1 for a victory in the final while Rongedal pays out 24 times your bet. Interesting because Rongedal has already beaten them once when they met in the second of the four Swedish pre selections.
Favourite to win the whole thing and represent Sweden at the 2008 Eurovision Song Contest is according to NordicBet currently Charlotte Perrelli who won the Contest when she last participated back in 1999. At that time her winning song was called Take me to your heaven. Time will tell if she gets the chance to win again with Hero. She will be up against a tough competition from Sanna Nielsen who is almost able to match Charlotte's 37/20 as NordicBet offers a bet of 5/2 for Sanna's Empty Room.
All odds on the second chance round and the final in Sweden can be found at NordicBet.com.
Links
NordicBet's odds on Melodifestivalen
SVT's site about Melodifestivalen