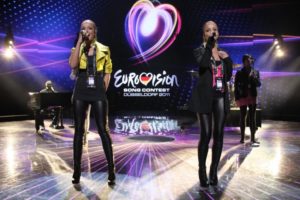 Slovakia made history this afternoon as they took to a Eurovision stage performing in English.  Last seen backing Tereza Kerndlová in 2008, the TWiiNS were now representing their own country, and didn't let it down.
Many of the press centre were actually wondering whether the TWiiNS could sing live.  Their rehearsal, to be fair, was not brilliant, but wasn't a total disaster either.  Steady would be a good word to describe it.
They weren't in their stage outfits, which still remain a mystery.  Daniela and Veronika are joined on stage by a drummer, a pianist and two female backing singers.  They all harmonise very well, however they were a few problems getting the performance right today.  Light rigging started high up, then was moved down for another run through, so a little work is probably still necessary.
The backdrop is geometric shapes that sort of 'bloom' and evolve.  It's not intrusive.  towards the end of the song we get pyrotechnics in the form of fountains of sparklers.
It's very effective, and it's a song you can't hate.  But you also can't help thinking that it won't be the favourite song of many people.  And a televoter's third or fourth favourite song may not be enough.  But they deserve to do well.