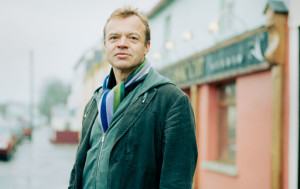 Following much speculation that long standing commentator for the United Kingdom, Sir Terry Wogan, would be hanging up his microphone, the BBC announced today that Belgrade 2008 was indeed his last contest.
Wogan had made on secret of the act that was fed up with what he has long seen as political voting in the contest. He even went as far as to say that the western countries have no chance of winning under the current system, clearly forgetting that Finland won in 2006. He said "I've had 35 wonderful years commentating on the Eurovision for radio and television. From my first, in a small music hall in Dublin, to my last, in the huge arena in Belgrade, it has been nothing but laughter and fun."
"The silly songs, the spectacle, the grandiose foolishness of it all.
"Let's hope that between (Norton) and the musical brilliance of Lloyd Webber, Royaume Uni will gather its proper share of 'Douze Points' and bring the Grand Prix home to where it belongs."
Speculation of his retirement has naturally led to more speculation about who his replacement should be. Irish comedian Graham Norton has officially been announced as the new BBC Eurovision commentator. He is no stranger to such shows, having hosted the Eurovision Dance Contest. He is looking forward to the challenge, "Sir Terry is nothing less than legend and is an impossible act to follow, but somebody must and I just couldn't say no. I can't wait to get to Moscow. With a combination of cheap vodka and a language barrier what could possibly go wrong?"
Links
In my view
Not long after announcing that Andrew Lloyd Webber will write the United Kingdom's entry for Moscow and therefore showing signs of serious intent towards winning the contest, the BBC replace a wannabee comedian with an actual comedian. It doesn't add up. It would be nice to think that Graham will be witty but not in the disrespectful way which has contributed to the United Kingdom's recent misfortunes in the contest. The viewers want to be entertained but Graham also has a duty to inform.

The danger is that he will continue the style which has admittedly proved popular with some, but has led to a false opinion of the contest in the country. This has led the household names to avoid it, when they could find themselves at the top of the scoreboard.

Time will tell.

The opinion expressed in "In my view" are those of the author and are not necessarily the one of EuroVisionary.com.