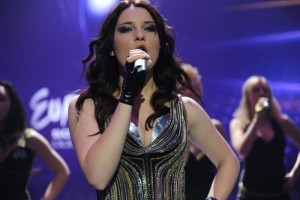 Maja Keuc is perhaps the voice of today's rehearsals and anticipation surrounding her performance was huge. Needless to say, she did not disappoint turning in one stellar performance after the other leaving fans and press alike enraptured in the hall.
Sensual, slinky, foxy are all adjectives that set the tone for Slovenia's effort this year under the guidance of the vocally versatile Maja Keuc. Her choice of outfit reflects this description, with a black thigh length dress with shimmering silver strands of beads attatched to the top that caught the light showing off her outfit to a treat, paired with a pair of black boots reaching just above the knee. Her 4 dancers/singers were dressed in complementing outfits, black catsuits that were relatively simple and discreet, allowing Maja to shine.
Stunningly beautiful staging for the Slovene entry, with the principal colours being turquoise and pink. The backdrop for the stage shows at first the outline of a rosebush, with petals and thorns clearly visible. Colour gradually fills the screen as the song gathers momentum to complement thecolours chosen to light the stage. The stage is lit with pink hues from below and turquoise from above in addition to hundreds of slim shafts of white light, making for a delicate cobweb effect.
The entry has no choreography to speak of as such, with the dancers/singers merely shimmying their way to and fro behind Maja, with a few simple hand and arm movements thrown in for good measure.
Maja stands alone at the front of the stage with her four backing singers/dancers entering the stage in pairs from either side. She gave repeatedly faultless vocal performances, exuding power, passion and emotion that we haven't seen the likes of so far today. From the dramatic piano led intro with dark overtones, you just know that you're in for 3 minutes filled with elegance and class. Extremely soulful and the final drawn out note is enough to give you goosebumps. Maja's voice will no doubt attract comparisons to Celine Dion or Christina Aguilera and rightly so, with a set of lungs on her that puts most of the other artists to shame.