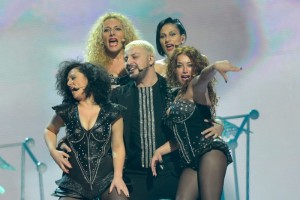 Anri Jokhadze and his team provided an excellent show at the second rehearsal for Georgia at the Crystal Hall arena.  His strong vocals and a unique stage act could well take Georgia to the final.
Anri begins the song wearing a red cloak and when he removes this he is wearing a black jacket and trousers with a silver/glitter top.  He is joined on stage by four female backing vocalists who are popular singers in Georgia.  They are Veriko Turashvili, Nino Dzotsenidze, Nini Sermadini and Magda Jokhadze (Anri's sister). The girls are dressed in black/glitter short body peaces.
The girl vocalists are sitting on big chairs and then they stand up and come to join Anri in the middle of the stage.
A female dancer also appears during the song.  She is wearing a long red dress.
Anri beats a drum and also plays a piano through the performance and also uses a megaphone.
There is a lot happening through the song and Georgia use the full three minutes to make a great stage show.  Anri now has an outstanding chance to make it to the final.