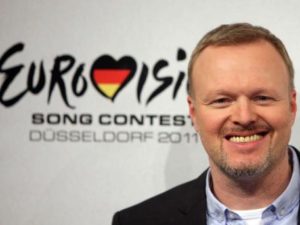 Next year's Eurovision Song Contest in Azerbaijan will be held without Stefan Raab. Today the popular German TV host and entertainer explained that he decided to quit the Eurovision Song Contest due to personal reasons. This means he will be no longer responsible for the selection of the German representative.
Raab says that hosting this year's Eurovision Song Contest in Düsseldorf was the highlight of his career. In the future we will neither be available as a host, nor as the leader of the jury, composer or producer. Nevertheless he hopes that the especially developed format "Unser Star für …" will remain the basis for the national German selection. His own production company Brainpool would appreciate a further cooperation with the German TV chanels ARD and NDR.
NDR director Lutz Marmor states that they will think about how to organize next year's German final. They plan to talk among the ARD colleagues as well as ProSieben and Brainpool. He thanked Stefan Raab for his engagement.
It is said that Raab was mainly responsible for Lena's victory in Oslo as well as the successful holding of this year's Eurovision Song Contest in Düsseldorf. In Germany the Eurovision Song Contest has reached a high popularity again with almost 14 million viewers during the final night.
Stefan Raab himself took part in 2000 with his song Wadde hadde dudde da (finishing 5th) and twice as a composer – in 1998 with Guildo hat euch lieb, sung by Guildo Horn (finishing 7th) and in 2004 with Can't wait until tonight, sung by Max Mutzke finishing 8th. This year he hosted all three shows together with Anke Engelke and Judith Rakers. Additionally he was responsible for the opening act with Lena.